In Southwest Florida, windows are for more than taking in the view. The right windows and shutters can not only add a touch of style to your home, but also help to make it more energy-efficient — a vital feature in Florida's virtually year-round humidity.
When you have plantation shutters installed in your home, you have many material choices. You'll want the most suitable products for your region to ensure your investment lasts many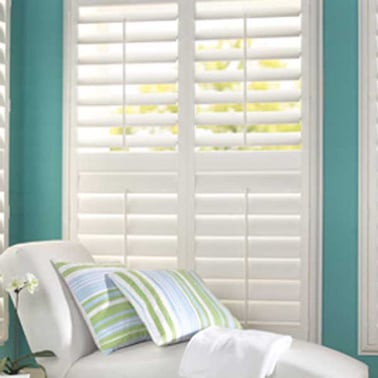 years. So what is the best material for plantation shutters in Florida?
Most homeowners choose between polywood or traditional wood, and both types come with key advantages.
Wood Plantation Shutters
Wood is an industry standard for shutters, and other materials are often compared to it. Many manufacturers use synthetic materials to mimic the appearance of wood, describing them as having a "wood-grain appearance." However, shutter companies still use many types of wood, such as:
The rich look and feel of wood shutters make them ideal for many homes, and many can increase your home's value compared to other materials. The variations in grain and color also make every shutter unique and set your home apart from others.
Other benefits of wood shutters include:
Strength
Durability
Good insulation
Stain resistance
To add to your home's individuality, shutters can be painted any color, which means that you can match them to your home's interior trim for a seamless transition from outside to inside your house.
However, wood shutters are more expensive than faux wood materials but aren't outrageously priced. And like any painted wooden surface, they may need repainting to maintain color. But this won't need to happen under normal conditions for approximately 15 years.
Poly Plantation Shutters
Polypropylene shutters — or poly for short — are one of the top choices for synthetic shutters in Florida. This moisture-resistant material makes them a suitable choice in areas such as garages or basements.
If you're looking for something more cost-effective than wood, poly plantation shutters are slightly less expensive. They have a durable, long-lasting finish and maintain their color for the lifetime of the shutter. Poly plantation shutters also aren't prone to warping when exposed to moisture and humidity.
Keep in mind that poly shutters are heavier than wood, which can put more pressure on the components holding them in place. When it comes to design flexibility, these shutters primarily come in white or off-white. Poly shutters are also non-stainable, and panels are limited in size; the largest poly shutter is smaller than some wood shutters.
What Is the Best Material for Plantation Shutters in Florida?
Which material is best for your home's plantation shutters in Florida ultimately depends on your needs, preferences, and budget. Wood plantation shutters offer a natural beauty few materials can compare to, but poly shutters still provide a stunning addition to your home.
At Naples Shutter, we have vast experience working with these materials and can help you better understand the benefits and disadvantages of each. Contact us to speak to one of our experts and find the right plantation shutters for your home today.