AstroGuard Hurricane Fabric
Stronger, Safer, More Affordable, Easier to Deploy: AstroGuard is our most popular hurricane protection option
AstroGuard is a resin-coated hybrid fabric that is 40% stronger than polypropylene, providing unmatched protection from hurricanes. AstroGuard provides "full envelope" protection of your home or commercial property, deflecting hurricane-force winds and preventing pressurization of the home. This pressurization is what causes roof lift-off during a hurricane and catastrophic damage to the home. AstroGuard weighs just ounces per square yard and gives homeowners and business owners the peace of mind knowing that their property, belongings, and families are protected.
Insurance approved
Blocks 99% of wind and rain
Category 5 wind load tested
100% UV resistant
Protection from flying debris
Translucent—lets in light
Florida Building Code and HVHZ approved (#12573)
Rapid deployment
Lightweight
10 Year Limited Warranty
Compact for easy storage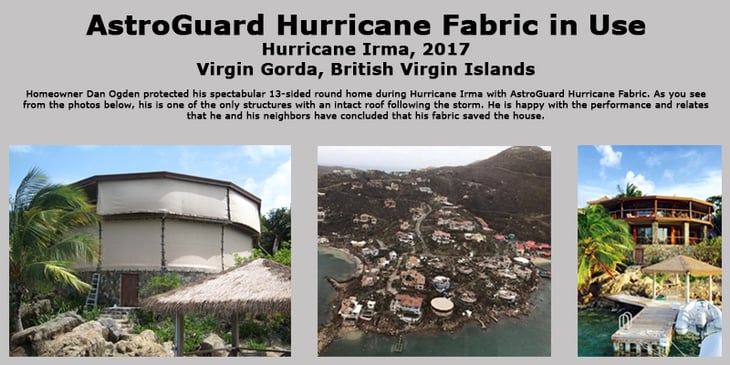 What is AstroGuard?
AstroGuard is a resin-coated hybrid fabric that is deployed over windows, doors, lanais, porches, garages and other openings. It protects against water, wind, and projectile damage during a storm. AstroGuard weighs only eight ounces per square yard, making it a lightweight, manageable alternative to traditional metal storm panels.
How Strong is AstroGuard?
AstroGuard has passed the rigorous testing necessary to gain Florida Building Code approval (#12573). It is also approved for use in High Velocity Hurricane Zones (HVHZ) by the State of Florida. With Burst Strength of 1,000 lbs./sq. ft., AstroGuard easily outranks plywood, roll-downs, accordions, and other hurricane fabrics.
How Can a Fabric Protect my Home or Business?
By design, AstroGuard is a flexible, nonporous fabric that is attached to your home or commercial property with standard hardware. The difference is the revolutionary mounting clip. Unlike competitors using grommets that tear the fabric, AstroGuard's patented mounting clip bites into the fabric without tearing it. Our system actually pull-tests hundreds of pounds more than competitors using grommets.
Is it Affordable?
AstroGuard is the best value in hurricane protection in many ways. Not only is it affordable, but it also saves you money on auxiliary expenses:
It can reduce your homeowners' insurance costs.
Its ease of deployment means you may not need to hire a handyman to put it up and take it down.
AstroGuard folds up neatly into its own storage bags and takes up very little space in an attic, garage, or storage unit.