Moving into a new home is one of life's most exciting adventures. However, without the proper window treatments, excitement can soon turn to aggravation. That's why Naples Shutter is here to guide you through the process with everything you need for your windows, inside and out.
Today's blinds come in a plethora of luxurious designs, materials, colors and options. If your home needs new blinds, one of the first decisions you'll need to make is whether to opt for an inside mount or an outside mount. This decision must be made before you can pick out blinds because it directly impacts the size of blinds you'll need to buy.
But what's the difference between these two options, and how do you know which is right for your home?
Inside Mount Blinds
Inside mount blinds are blinds that are installed on the inside of window frames. This means the blind is usually the same width or slightly shorter than the window itself.
Because they are extremely versatile, inside mounts: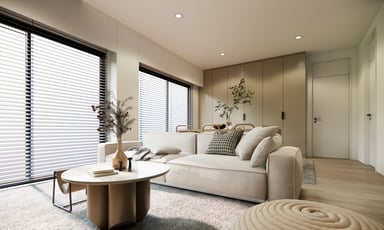 Work with many types of windows
Create a more cohesive appearance
Give the space a more streamlined look
It is important to note that not all window frames are deep enough to accommodate them.
Outside Mount Blinds
Outside mount blinds are installed directly on the wall just above the window. Although they take up more room, strategically placed outside mount blinds can:
Add the illusion of more space
Give a space a more elegant feel
Provide additional privacy
Outside mount blinds can be used anywhere, but are most commonly used in rooms with very large windows or windows that are not standard sizes.
Should I Get Inside Mount or Outside Mount Blinds? 4 Things to Consider
If you're stuck trying to decide which type of mount is right for your home, you're not alone. Many homeowners struggle to make this decision. But keeping four key elements in mind will make it easier to answer the question, "Should I get inside mount or outside mount blinds?"
1. The Size and Shape of Your Windows
The first thing to consider is the size and shape of your windows. Inside mount blinds require a certain amount of depth in the window frame to be properly installed. If your window frame is not deep enough, or if your window is an odd shape, an inside mount blind may not be an option.
In these cases, outside mount blinds would be the better choice.
2. Your Style
Another factor to consider is the look you're going for. Inside mount blinds have a more streamlined, cohesive look, while outside mount blinds offer a more dramatic look. Inside mount windows blend in with the surrounding window trim, while outside mount blinds really stand out.
3. Installation
Additionally, the installation process plays a big role in many homeowners' decision processes. Inside mount blinds tend to have an easier installation process, whereas outside mount blinds typically require additional hardware and elbow grease.
4. Privacy
The last thing to consider is how much privacy each type of blind affords. Since outside mounts extend beyond the window frame, they block out more light and provide more privacy. Inside mount blinds provide enough privacy for most people, but they do let in more light around the edges.
A One-Stop Shop for All Your Blinds and Shutters Needs
No matter what kind of blinds or shutters you're interested in, you can find high-quality, cost-effective options at Naples Shutter. We have proudly served Southwest Florida and the surrounding area since 1981. Reach out to our team today to get started with a free estimate.