The time has come to redecorate. Out with the old, dingy curtains and in with the new, contemporary look. With all of the options out there to choose from, how do you know which product will best suit your home? One of the most popular upgrades to a home is window treatments, and we're here to talk about a look that's unique, fun, and just plain nice to look at: woven wood shades.
Woven Woods: What Makes Them Unique?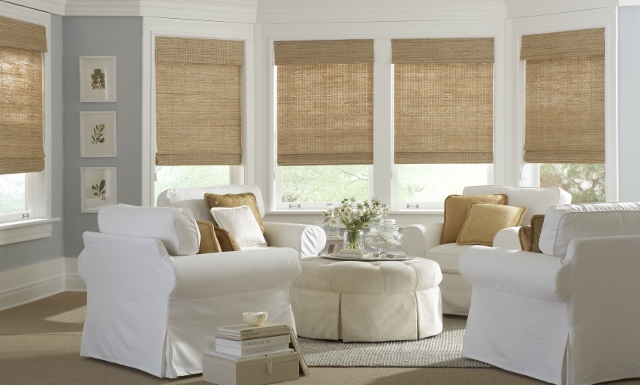 Woven wood shades are not your typical window fashions. They're made up of natural materials, like bamboo, wood, grass, and even certain types of paper. Because of this, it's a fact that no two woven wood shades will look the same. So, is this what your home needs? Let's find out what's good about them and what may steer you in another direction.
Why Should Your Home Have Woven Wood Shades?
We've already talked about the uniqueness that each shade emanates, which piques the interest of many redecorators. Knowing that no one else will have your exact window treatments is something to desire, making this type of shade a popular choice.
Another great way woven wood shades add character to a room is by the texture of the shade's composition. The materials, such as bamboo and grass instantly add an element of the outdoors to the space, making it feel like a barbeque on the lawn when in reality it's a nice meal in the kitchen during a storm.
Woven wood shades are not only easy on the eyes, they're quite versatile as well. Being able to make them into roller shades, Roman shades, and also patio door coverings are among the different options for this type of shade. Privacy and light control backings can also be added to really customize the space.
How To Know Woven Woods Aren't For You
If you prefer the look of classic, uniform window treatments, woven woods may not be for you. Remember, woven wood shades are made of natural materials, which means not every treatment will look the same, and what one window looks like won't be the exact same as the window right next to it.
Another thing to remember is that because of the composition of the shade, the edges tend to be more uneven and ragged, emitting a not so finished look. This unevenness can also create gaps between the shade and the window frame, allowing more light to come in than expected.
Natural materials also have a tendency to change over time from the sun's rays or from moisture in the air. So what you buy now may not look the exact same a couple of years down the road.
In The End
Remember, what looks good in one home, may not look good in another. Window treatments are an investment that you need to be happy with in the long run. To recap:
Woven woods are great for someone looking for a unique look.

Being made of natural materials adds texture and an outdoorsy feel to the space.

These shades are very versatile, with options to add privacy and light control backings.
Woven woods may not be for someone who wants a uniform look.

The natural materials tend to be uneven at the edges, causing more light to enter a room.

The materials of the shades tend to change over time, due to the sun and moisture in the air.
Hopefully we've been able to shed some light on woven wood shades and if they'll be a great addition to your home. Feel free to visit our showroom to check them out in person!