When designing your home, window treatments are going to make it onto your design list, no matter which room you're focusing on, and it's important to choose wisely. Think about all of the windows you have in your home. Now, think of how many of those windows may require something other than a standard window treatment. Many Southwest Florida homes have specialty openings, such as arched windows and what works for other normal windows in your home, just won't cut it with arched openings. When it comes to window treatments for arched windows, let us help you find the right product that works in this unique space.

Specialty Plantation Shutters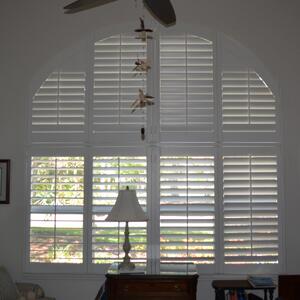 Many homeowners choose plantation shutters, due to their beauty and ability to work in virtually any space. The perk about plantation shutters, especially those that are custom made in a local factory, is the ability to transform them into any shape that you desire. Plantation shutters can fit a variety of window styles, including:
Arched windows
Sunbursts
Ovals
Octagons
Custom-designed with your windows in mind, plantation shutters can be made to fit your unique openings, and are available in a wide array of colors to match your trim or stained to add a sophisticated and traditional look to the room. You also have your choice of louver size, midrail location and much more. All of this makes plantation shutters a perfect choice when it comes to fitting into your tricky openings.
Blinds & Shades
For those who are going for a different look than classic plantation shutters, there are a variety of shades that can work in these specialty openings as well. Having your choice of color and fabric style, texture and operating system are some of the obvious benefits when choosing blinds to fit your arched window openings. The key here is to enlist the help of a trained professional, so that you're sure your new blinds will fit these difficult openings perfectly. Since there's not a one-size-fits-all option when it comes to specialty openings, precise measurements are essential to your product looking and functioning at its absolute best. The right product starts with the right professional. It's important to find a window treatment professional, who can take accurate measurements of your arched windows and speak with you about your options.
The Right Product
Not every window treatment will work for arched and specialty windows, so knowing your options is important in the overall design process. Go through your options and be confident in your choice. After all, you'll be living with your window treatments for quite some time, and ill-fitting products can cause problems, both with the look of the space and the functionality in the opening.
Your Arched Window Treatments
Arched windows can be tricky...there's no doubt about it! Finding the best window treatment for the opening that also meets your budget is imperative, so take your time and make the right pick. Between the vast variety of blinds and shades available and the opportunities for customization of plantation shutters, we're confident that there's a product out there that will meet your needs for your specialty windows.