As we crest into the autumn months, it won't be long until we say sayonara to 2021 and welcome in a brand new year. And as we do so, it may be the ideal time to revamp your home's window treatments; however, you may not know where to even begin. It may have been quite some time since you last updated your window treatments, and what was in even a few years ago has the potential to be long gone by now. The good news is that we have the inside scoop on the hottest window treatments for 2021 and beyond, along with some of the not-so popular trends that have worn out their welcome. So, when it's time to revitalize your windows, be mindful of some of the window treatment trends that are in and out of style.
In Style: Energy Efficient Options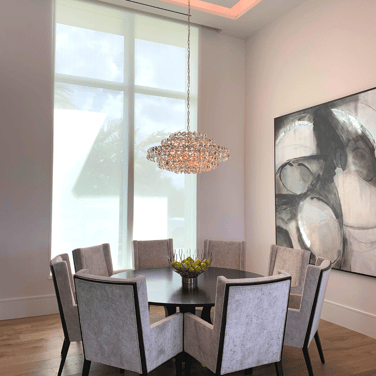 Saving energy is at the top of many homeowners' lists and what better way to help with this than with your window treatments? Approximately 30% of the home's energy is lost through the windows, so remedy this by opting for better, more efficient window coverings. Keep cool air in and hot air out, reduce the risk of your air conditioning working overtime and protect your belongings from fading in the sun by choosing energy-efficient window treatments. Plantation shutters, cellular shades and light-filtering roller shades are perfect for sun-filled areas of the home.
Out of Style: Busy Patterned Drapes
Gone are the days of gaudy drapery panels adorning every window in the home. Instead, homeowners and interior designers are opting for a more contemporary, light and airy look throughout the home. Crisp white plantation shutters and luxury sheers make any space more inviting without creating that busy look that you'll find with dusty, old drapery panels. Plus, newer options are much easier to keep clean.
In Style: Timeless Plantation Shutters
It's true, plantation shutters never go out of style. With their classic, clean appearance, plantation shutters create a timeless look in any space. And with so many colors to choose from, including stained options, blending them in to any home's style is effortless. Not only that, with poly plantation shutters available, you're able to carry the look of plantation shutters throughout every room in the home, even bathrooms and other areas prone to moisture.
Out of Style: Corded Blinds
Cords just get in the way, and not only are they finicky to operate, they also pose a danger to young children and pets. Instead, designers and homeowners are gravitating toward more seamless options that are much easier to operate, including:
Motorized shades

Plantation shutters

Cordless shades

Retractable cords
By eliminating the cord, you're not only enhancing the look and feel of the space without unsightly cords dangling everywhere, you're also making it a safer place to be for all.
Top Window Treatment Trends
Although it may be tough to keep up with the ever-evolving design world, it's expected that these window treatment trends are here to stay for a while. Not only are energy-efficient options high on the list of priorities these days, functionality and style have always be musts for the home. When you want to create the ultimate space in any area of the home, choose your window treatments wisely. They make a greater impact than you think.