If you can believe it, another year is about to come to a close, which means that a new year is upon us, bringing new home design trends along with it! When it comes to window treatments, it's important that the products you choose for your home complement your home's style, as well as work with the home design trends of the year. For many, this means choosing timeless window treatments that will continue to be in style, even as other fads fade away. So, what's in store for 2022? When it comes to home design, light and bright remain popular, and if you're looking to outfit your windows with new window treatments in the new year, you'll want to pay attention to certain trends. After all, your windows take up quite a bit of real estate in your home, so furnishing them properly is important.
Here are the window treatment trends for 2022…
Neutral Tones with a Hint of Boldness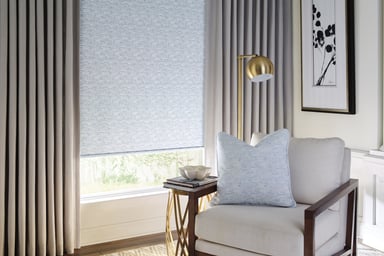 Modern minimalism has been "in" for quite a while now, and designers are confirming that it's not going anywhere anytime soon. When choosing window treatments for your home, sticking with neutral tones is always advised; however, designers are hinting that it wouldn't hurt to add a touch of boldness throughout. It's suggested that sticking to a mostly neutral palette not only adds contemporary style to any space, it also promotes a more natural vibe; however, don't be afraid to go bold in some spaces, with window treatments in the following colors:
Chocolate brown
Navy blue
Bright peach
Dark purple
Window treatments are perfect additions to the space if you're looking to make a statement, so don't be afraid to try something different here.
Roman Shades Remain a Favorite
Roman shades not only give the space more depth and interest, they're extremely functional, especially for the kitchen. Not only do they fit in perfectly with the modern vibes many homes are embracing these days, they don't take up too much room with frills and long, dangling material, which makes them ideal for busy spaces in the home, like kitchens and bathrooms.
Patterned Perfection
Speaking of making a statement, there may not be a more perfect way to do this than with your window treatments. Opting for patterned blinds or drapery treatments, especially in bedroom spaces adds a level of style and excitement to the room. This way, your walls can remain a bright neutral color and you can add a design element by way of patterned window treatments to create a space that's functional, beautiful and impressive.
The Layered-Up Look
We're also seeing more and more layers donning the windows of modern homes to create an interesting, yet cozy ambiance in the space. This is especially popular in living areas and bedrooms to promote a comfortable feel in these spaces, allowing for maximum relaxation. Try adding in blackout shades behind your plantation shutters for ultimate privacy or a couple of elegant drapery panels to your shades for enhanced style.
Embracing Nature
Nature continues to make its way more into the home, and the same holds true for the trends of 2022. Window treatments that don't take over a window, instead allowing the outside world to float in are highly desired in many homes, especially those with outstanding views, like those here in Southwest Florida.
As you can see, the trends of 2022 are very much in-line with what we're enjoying now. In keeping the overall design simplistic in nature, you'll be able to create a cozy home for all to enjoy.