For many, the master bedroom is a sanctuary, filled with a relaxing, peaceful ambiance that promotes good rest and sweet dreams. Although the master bedroom is a place to rest and reset, with all of the sun-filled days we get to enjoy here in Southwest Florida, you'll want to be sure to cover your windows in this space accordingly. Too much light filtering in the windows and not enough privacy are the main complaints of this space, which means that the window treatments you choose will play a big role in the overall comfort of the room. Not every type of product works well in the master bedroom and not every window treatment will blend well with the style of the space. If you're looking for the right product for your restful sanctuary, here are a few of our favorite window treatment solutions for your master bedroom.
Woven Wood Shades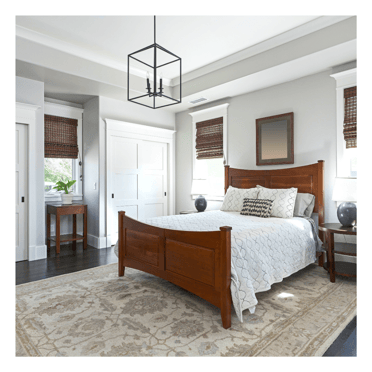 Homeowners gravitate toward woven wood shades, due to the versatile style that they bring to the space. Constructed from reeds, grasses and other natural elements, no two shades are exactly alike, which really gives them character, adding depth to the space. In addition to being distinctly styled, woven wood shades also come with a host of other benefits, including:
Exceptional light-filtering abilities
A wide array of patterns & styles available
Black-out options available
Many different applications possible
If you're looking to add a little pizzazz to your master bedroom windows, woven woods will do just that. Plus, with the natural vibes that they give off, they're the perfect complements to many coastal contemporary homes here in Southwest Florida.
Luxury Sheers
When you're seeking to make the master bedroom into a relaxing sanctuary, nothing can help achieve this feeling better than luxury sheers. Giving off an aura of refinement and style, luxury sheers complement many areas of the home perfectly. The master bedroom is perhaps one of the best spaces to incorporate these special window coverings. From gliding panels to sleek sheers, there's an option in the luxury lineup that will add excellent designer style to your space.
Other Popular Window Treatments
The master bedroom has a different feel from the rest of the home. This is where you recharge and reenergize for the day, which means your window treatments not only have to be functional, but it helps if they're beautiful too. A few other master bedroom favorites include:
PVC and poly shutters
Wood blinds
Fabric roller shades
No matter what look you're trying to achieve in this space, whether it's a coastal contemporary feel or an ultra-modern vibe, there's a window treatment solution out there to suit your needs.
Master Bedroom Window Treatments
You begin and end your day in the same place, and when you want to enjoy restful sleep without distractions, your window treatments will help you do just that. It's important to choose a window treatment that adds functionality to your space, and also blends in with the overall décor of the home. You'll want a product that offers ample light-filtering capabilities to not only maintain the amount of light in a room, but also regulate the temperature of the space. In addition, having the privacy that you need is essential in creating a master bedroom that you'll look forward to waking up in every single day. There's no better way to take this space in the home to new levels than by choosing the right window treatments to revitalize it and make it optimally functional.