Our homes play more of a role than ever in delivering everything we need in a day, especially since the beginning of the COVID-19 pandemic. From office spaces to gyms, relaxing spa areas and more, it just makes sense to outfit your home to cater to your individual needs. The same goes for entertainment, and if you're looking to create a home theater or media room in your home, you'll need the right window treatments for this particular space. This is especially important when converting an existing bedroom or den area that's full of windows, because when it comes to home theaters, movies are better with the right ambiance. So, here are some of the top window treatment solutions for your home theater or media room.
Blackout Shades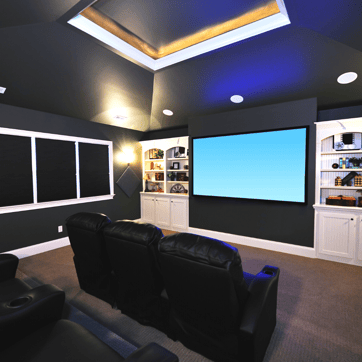 The key to any successful movie night is letting the flick be the star of the evening, and when there's light filtering in through the windows, it can make viewing your projector or big-screen TV pretty difficult. The last thing you want is to give yourself a headache, squinting your eyes, trying to see what's happening on the screen. That's why blackout shades are top picks for this area of the home. Available with a specialized back, blackout shades stop light from entering in through the windows, creating the ultimate movie theater ambiance. Stick to cellular or roller shades for this space if you're looking to create a theater-like atmosphere.
Motorized Shades
In addition to blackout properties, you may also want to add motorization to your blinds. With just a click of a button, you'll be enveloped in darkness and ready to enjoy the featured film. Motorization is available in a number of shade options, including:
Luxury sheers

Roller shades

Honeycomb shades

Roman shades

Vertical blinds
Choosing motorization makes it easy to capture the essence of the theater, without even leaving your comfy chair or sofa. Operate them via your smartphone, voice control or set up automation to make opening and closing your media room blinds easier than ever.
Energy Conserving Shades
Having a bunch of electronics in any room means that this room may be hotter than many of the others in the house, and your air conditioning is working hard to keep this room at a comfortable temperature. Don't make your a/c go into overtime by having the wrong window treatments in your home theater. Opt for energy conserving shades, like cellular shades, outfitted with pockets to keep hot air out and cool air in, especially during our steamy Southwest Florida summers. This way, your a/c isn't overworking to keep this space cool. Your window treatments will be helping to carry some of that responsibility.
Top Shades for Home Theaters
If your evening consists of dinner and a movie in, then a home theater or media room may just be the right addition to your space. In taking care to outfit any windows in this space with the proper window treatments, you'll not only remain comfortable during movie night, but you'll also add some serious style to the space. Remember, stick with blackout options for intense room darkening qualities, and don't forget about conserving energy, so that your energy bills don't skyrocket with regular use of this space. And always keep in mind that motorization is there for you, making it simple to operate your shades from anywhere. So, when it's time to make your home even more entertaining by adding in a home theater, keep these window treatments in mind for maximum enjoyment.