A new year brings a slew of new design options for the home, and in today's modern world, design matters. The days of anything goes in the home are long gone. Instead, careful attention to detail reigns. It seems as though every nook and cranny of the home can be fine-tuned, and window treatments are no exception. Going with the times is essential in creating a well-designed home that is classy, yet trendy, modern, yet enduring. We've compiled some of the top window treatment trends for 2020 to help you kickstart your design ideas into overdrive this year.

Natural Materials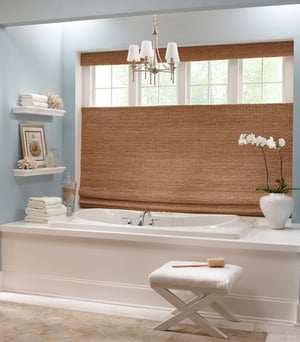 Adding elements of nature into the home has become more and more prevalent in recent years. Plant life and a variety of nature-friendly materials are being seen more nowadays than ever before. Perhaps it's the air of brightness and rustic appeal that make natural elements so popular, or perhaps it's due to the host of benefits that these elements bring to the home. Because of this trend, woven wood shades are coming into the spotlight in 2020, more so than ever before. Constructed of natural materials, such as reeds, woods and grasses, woven wood shades offer depth and interest to the space. Other benefits of woven wood shades include:
Light-filtering options
A variety of styles available
Motorization and blackout options
Over 150 beautiful patterns and designs
Woven wood shades give the home a rich and inviting feeling that simply can't be beat! If you're looking to add warmth into your home, woven wood shades will not disappoint.
Sleek Design + a Pop of Color
Perhaps nothing characterizes the modern home more than sleek, minimalistic design. Neutral tones throughout the home give it a bigger, brighter feel, which has been embraced by homeowners across the globe. This year; however, we're seeing more color creeping into this sleek appeal. Pops of color with furniture, accent pieces, wallpaper walls and more are paired with beautiful white plantation shutters to give the design a modern, yet clean and crisp appeal. Classic meets trendy is the motto for 2020.
Custom Craftsmanship
Gone are the days of running to the store to grab decorative items that everyone else has in their homes. Nowadays, custom pieces are highly sought-after in the home. Custom pieces are making their way front and center in 2020, ranging from custom furniture to custom pieces of art. This means that custom window treatments, like hand-crafted plantation shutters are critical design elements in the home. The uniqueness of these items and the beauty that emanates from them places them above and beyond their store-bought counterparts. That's why more and more homeowners are seeking more custom made and even antique pieces for their homes to set them apart from the rest.
2020 Design Trends
The new year seems to have us going back to the basics. Natural elements, hand-crafted design and vibrant colors have us feeling nostalgic, yet looking toward the future. By taking classic design and amping it up a bit, the design trends for 2020 are fresh, classy and chic. When looking to outfit your windows to match your home's modern design, keep these trends in mind. We can't wait to see how design continues to evolve throughout the upcoming years!