You probably know that they are practical and beautiful, but did you also know that plantation shutters are a versatile design element? Like most homeowners, you probably struggle with the balance between letting tons of natural light into your home and protecting your privacy.
Plantation shutters from Naples Shutter are the perfect solution. They can be easily adjusted throughout the day as privacy needs change.
There's no doubt plantation shutters are functional, but you may ask, "Can I use plantation shutters with my design style?" The answer, in almost every case, is "yes." From modern farmhouse or coastal contemporary to mid-century modern or traditional, plantation shutters blend well with most all interior design schemes.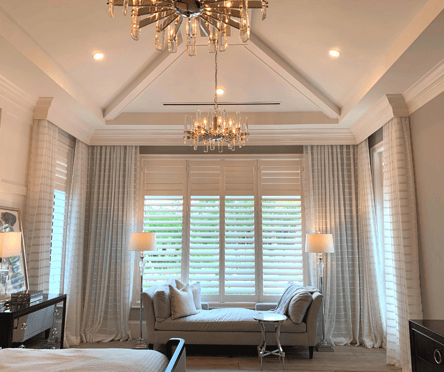 Though they originated with classic southern interior design, these wooden louvered window covers are versatile. You can find plantation shutters that work in your home by selecting the right material, size, and accessories.
Plantation Shutter Materials
The main options for plantation shutters include:
Wood
Composite (Poly)
Polyvinyl chloride (PVC)
Each material lends its look to the final product, and each has its pros and cons.
Premium wood shutters from Naples Shutter are 100% made in America and custom-built to your specifications at the Naples Shutter factory. With an upgraded five-step painting and finishing process, you're certain to get shutters that complement any home decor style.
Where's the downside? There really isn't one. Premium wooden shutters may not be in every homeowner's budget, but the quality speaks for itself.
Poly or composite shutters are a more budget-friendly alternative. They are durable and easy to maintain. Only two colors are available — white and off-white. You can choose from two louver sizes when ordering composite shutters.
PVC shutters are ideal for windows where waterproofing is needed. They come in white and off-white, with two louver sizes to choose from.
Selecting the material, color, and louver size that best compliments your design style is the first step in making plantation shutters work for you.
If you opt for colorful wooden shutters, make sure to echo the same or similar color elsewhere in the interior design. Narrower louvers create more lines and a "busier" look that can be positive or negative, depending on your overall style.
Making the Most of Window Accessories
Plantation shutters work beautifully as stand-alone window coverings, but they don't have to. Place casual or formal drapes over the shutters to complement your style.
If you're looking for a simple pop of color, consider hanging solid, striped or patterned drapery panels on each side of the window. . However, if maximalism is your thing, layer sheers and traditional curtains on top of the shutters for loads of visual interest.
If you love the idea of bringing the outdoors in, forget the curtains and accessorize your windows with house plants. Not only do living plants provide an array of color and interest to a room, but they also help improve indoor air quality.
The easy function of plantation shutters makes it possible to give plants the exact amount of sunlight they need for healthy growth.
Can I Use Plantation Shutters With My Design Style?
Custom plantation shutters can be made to enhance the look of any window, regardless of shape or size. Contact Naples Shutter for more information about how custom plantation shutters can enhance your decor style.