You may have seen your neighbor down the street getting brand new plantation shutters installed or you may have heard your friends talking about the plantation shutters in their homes. With all this talk about plantation shutters, you're starting to get interested in them. Why are they so wonderful anyway? What makes them a top pick for so many Southwest Florida homeowners? You may start to look into your own home and wonder if adding plantation shutters to your windows may be beneficial for you. When it comes to window treatments for the home, plantation shutters remain one of the most popular choices among homeowners.
Here's why plantation shutters are perfect for your home.
Enhance Your Design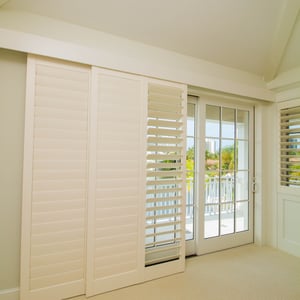 Plantation shutters provide a timeless look like no other in the home, and with a variety of customization options, you are free to create the look you desire in any space. Plantation shutters can be painted or stained to match virtually anything in the home. Need shutters to match the prestigious look of your study? We've got a stain for that. Need them to match your teenager's eclectic style? We've got a paint color for that! No matter what your design vision is, plantation shutters can enhance it.
Customize your shutters to meet your needs. Add a midrail, so that the top and bottom louvers operate independently from each other or opt for the hidden tilt option, so that your tilt rod is concealed, showcasing a streamlined look. From louver sizes to paint sheen, you're able to find what works for your space.
Privacy & Protection
Have the privacy you need with the light filtering abilities that you want with plantation shutters. Plantation shutters help to protect your valuable items from fading in our harsh Southwest Florida sun, while giving you the view that you want all at the same time. Not only that, you'll also save money on your energy bills. Keeping your home warmer in the winter and cooler in the summer, plantation shutters help to reduce gaps in the windows and protect your space from becoming too hot, especially in the summertime.
Increased Resale Value
Choosing to add plantation shutters to your windows can also increase the resale value of your home. Not only is your home more energy efficient, the design appeal has been kicked up a notch with custom window treatments. Plus, plantation shutters come with a lifetime warranty and are often featured in real estate descriptions as a major selling point.
Other Benefits of Plantation Shutters
Plantation shutters come with a host of benefits and options. Other benefits of plantation shutters include:
Constructed from premium hardwoods
Unlimited paint and stains available, as well as color matching
Specialty shapes available (arches, sunbursts, sliders, French doors)
Custom built
Exotic hardwoods available
As you can see, opting for plantation shutters in your home goes beyond the cosmetic benefits. From increased resale value to energy efficiency, plantation shutters are a winning option for your home. So if you're wondering why all of your neighbors are getting plantation shutters installed in their homes, now you know! And when it's time to tackle your own home, you may just find yourself choosing plantation shutters for yourself!