If you share your home with an adorable furry pal or two, you know that extra precautions need to be taken, in order for your home to remain safe for them. From fencing in your yard to sectioning off areas of the home that are out of bounds, creating a home that is catered to your pet's well-being is a responsibility of any animal owner. What some owners may overlook, however, are their window treatments. Dangling cords and bulky drapes can not only cause harm to young children, but also to your pets. Getting tangled up in cords or stuck in cumbersome drapes can lead to injury or worse, which means that the window treatments you choose for your home are important. Whether you crate your pet while you're away or they're left to roam from room to room unattended, it only takes a second for an accident to happen.
So, prevent this by opting for the right window treatments for your home. Which window treatments are best for homes with pets, you ask? Here are some of the top options.
Cordless Blinds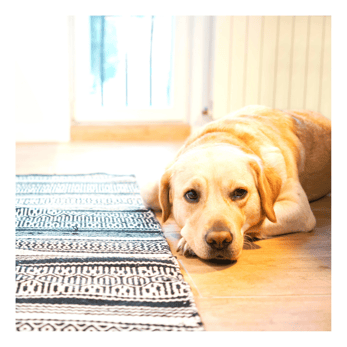 The last thing you want is for your pet to become entangled in your blinds' cords. This can be alleviated by choosing shades that are cordless, offering an alternative way to operate them. You have your choice of options when it comes to operation, including:
Retractable cords
Wands
Spring-assisted systems
There are plenty of products available that offer these types of mechanisms to ensure that your blinds aren't getting in the way of your furry companion. You'll also find that without the bulky cords, the look of the space is much cleaner and operating your window treatments is a breeze.
Motorized & Automated Blinds
Perhaps one of the best options for homes with pets is installing motorized shades in your home. With the ability to control your shades from your smartphone, tablet or remote, you'll be able to effortlessly operate them without issue. You'll also be able to take advantage of perks along the way, like being able to program them to open and close at certain times and more.
Opting for automated blinds opens up even more possibilities, like smart home integration and voice activation. You'll also be able to control your shades, even when you're not home, making for safe and easy operation, no matter what.
Plantation Shutters
The gold standard continues to be a top product for many homes, especially those here in Southwest Florida. The biggest perk of shutters is that they don't have any hanging cords or cumbersome materials to get in the way of your pet's play time. Custom-fitted to your windows, plantation shutters are simply an extension of your home, blending in seamlessly and making a serious statement in any space. One of the biggest perks of plantation shutters is being able to customize them to suit your needs, so if your pet likes to look out of the window every day, you may want to choose shutters with larger louvers for enhanced visibility.
Pet-Friendly Window Treatments
They're a part of the family, which means that taking measures to keep your pets safe is a priority. By addressing your window treatments, you'll be able to design a space that not only works with the style of the home, but also helps keep Fido safe and sound. Make the most out of your home with window treatments hand-selected specifically for your needs.