You may know Bahama shutters as being the colorful shutters you see as you drive past many Southwest Florida homes. Thinking they're simply decorative, you don't even consider them as being a protection option for your home, let alone used as hurricane protection. They're just for looks, right? Wrong! Bahama shutters are utilized by many homeowners as a means to protect their home and family from inclement weather. Choosing impact-rated Bahama shutters can not only add curb appeal to your home, they can also protect your most valuable possessions during this time of the year. Here's what you need to know about Bahama hurricane shutters.

What are Bahama Shutters?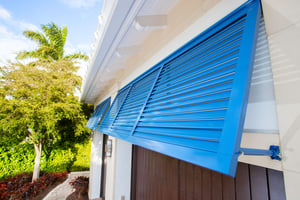 First, a lesson in exterior shutters...Bahama shutters are installed on the outside of your home and are propped open utilizing a telescoping arm. Not only can Bahama shutters create that island feel for your home, they can also be customized to fit your needs. They are available in over 200 powder coat colors and can be manufactured to withstand even the most dangerous weather that can come our way. Bahama shutters are constructed of a sturdy aluminum material and are built to withstand our harsh climate for years. They can propped open all the way, halfway or closed all the way, depending on your desires.
Bahama Hurricane Shutters
Choosing Bahama shutters for your home is a solid investment and can increase your property value, but choosing the hurricane impact-rated option pushes them to a new level. These shutters are upgraded and include various features, such as:
Heavy-duty lock down systems
Upgraded hardware
Perforated backing to let light in
Florida Building Code and Miami-Dade Building Code approved
These upgrades help your shutters do their job come storm time. With high-quality locking systems, your shutters are locked into place, providing your home with a level of protection that is unmatched. The perforated backing that is installed on these shutters helps to decrease the cave-like feeling that you may experience with rolldown or accordion shutters, and you can rest assured knowing that this type of hurricane protection is easy to deploy when a devastating storm is making its way to our shores.
Getting Prepared for Hurricane Season
Hurricane Season is well upon us now, but you can still get prepared. Bahama hurricane shutters are a popular choice among homeowners in our area, because not only are they beautiful and functional, they're already installed on the home and ready to be deployed at a moment's notice. No hunting down equipment, matching panels to the right windows and climbing ladders to install them. All of the work is done and you can turn your focus toward getting prepared for a storm.
Don't think that just because forecasters are predicting a slightly calmer season this year that you don't need to be prepared. Anything can happen and having adequate hurricane protection now can save you so much later. Know the importance of preparation, outfit your home with the hurricane protection that works for you and never underestimate the level of devastation a storm can bring to your home.