The last couple months of 2022 are upon us, and as we look forward to welcoming in a new year, we'll also be welcoming in some new trends in the interior design industry. Window treatments are large components of your home's design and when it comes to how your home looks and feels, they play a huge role in this. From functionality to style, you want to capture the essence of what each area of your home requires, and you also want to make sure that you're not choosing a product that won't hold up with the trends. Whether your home resembles coastal contemporary style, rustic farmhouse, industrial or modern minimalist, there are window treatments out there to complement this style perfectly. So, as we get ready for the new year, which will be here before you know it, here's what window treatment trends you can expect for 2023.
Automation Reigns Supreme
From robotic vacuums to automated faucets, we love the convenience that home automation brings to our lives. The same holds true for your window treatments, as more homeowners are choosing automated blinds for their windows. Being able to control your window treatments from your smartphone or tablet allows you to easily operate them, as well as place them on a schedule so that they open and close when you desire. Not only are they extremely functional, they're available in many different colors, sizes and designs, which allows them to appeal to virtually any space's style.
Simple Roller Shades Are Timeless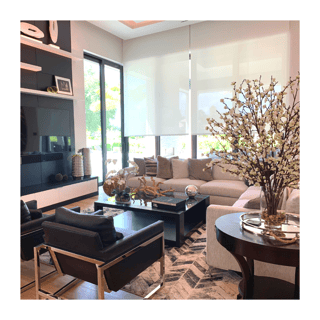 Roller shades have the ability to filter light perfectly, while also blending into their surroundings with ease. They add a subtle hint of elegance to the space, while protecting your valuables from fading in the sun's harsh rays. It's the best of both worlds when you choose roller shades, and with their ability to complement many modern homes, we don't expect them to be going out of style any time soon.
Plantation Shutters Are Always a Classic
Another window treatment product that we don't see going out of style, especially here in Southwest Florida, are plantation shutters. The ability to paint or stain them virtually any color you like, as well as customize them to meet your distinct needs makes plantation shutters a true classic in the home. Plus, they pair effortlessly with drapery panels to add a level of modern style to the home that is unmatched.
Other Popular Trends for 2023
The theme in many homes recently has been simplistic and modern, and when it comes to your window treatments, you'll want to consider the following options as well:
Luxury sheers
Top-down/bottom-up shades
Woven wood shades
Choosing window treatments that are timeless will allow you to enjoy them, even as trends begin to shift and change. The last thing you want is to invest in certain window treatments, only to find that they've gone out of style faster than you anticipated. In keeping your windows adorned with classic trends, you'll be able to maximize your views and enjoy your home like never before. So, whether you're interested in timeless plantation shutters or modern roller shades, there's something out there to add value and beauty to your home.