Our modern world is full of options. It seems as though there are so many choices to make in every aspect of our lives that sometimes, making an actual decision can be a challenge. The world of window treatments is no exception. When it comes to finding the best window treatments for your home, many homeowners prefer blinds and shades for their windows. With the abundance of options, ways to customize them and functionality of these products, it's no wonder why more Southwest Florida homeowners are gravitating toward these types of window treatments. But how do you know where to start? There are so many options when it comes to blinds and shades.
So what type of shade is right for your home? Let us help you choose!
Woven Wood Shades
Many home design trends are showcasing organic elements in the modern-day home. By adding in elements of nature into the home, it gives the space a rustic, comfortable feel, which appeals to many homeowners all over the world. This is why woven wood shades are perfect to add that organic edge to your space. Constructed of natural materials, like woods, grasses and reeds, woven wood shades not only add style to the room, they add depth and texture as well. Woven wood shades filter light perfectly and are available with many customization options, like motorization and black-out varieties. If you're looking for a more natural look in your home, consider woven wood shades to deliver the look you're searching for with ease.
Luxury Sheers
Luxury sheers add that lavish look to a space that is simply unmatched. From vertical blinds and gliding panels to arches and cornices, luxury sheers are made up of some of the finest materials and can also be customized to meet the needs of the space. To add a modern element of luxury to your space, consider opting for luxury sheers to amplify the design of the room.
Roller Shades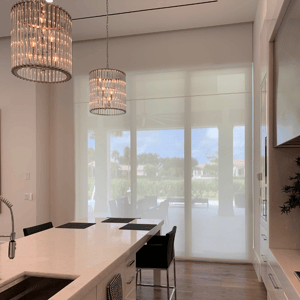 Reduce harmful UV rays, protect your belongings from fading, filter light and have the privacy you need with versatile roller shades. Available in interior and exterior styles, roller shades are extremely popular with homeowners due to the multitude of options like:
Hundreds of fabric styles
A variety of sheerness choices
Motorization options
Find the perfect look with complete functionality with roller shades. Easy to operate, effortless to maintain, durable and beautiful, these shades are the complete package.
Wood Blinds
Looking for classic style in your home? Wood blinds offer just that with their rich, wood-grain finish and high-quality details. Crafted from the finest North American hardwoods, wood blinds are available in multiple louver sizes, a variety of color options and a wide array of grain finishes to blend in and complement the look of the space seamlessly.
It's true...the product that you choose has to work properly for the space. Not only do your shades need to match your home's design, they also need to function how you need them to in each room. Remember, what works in the living area may not work in the kitchen or bathroom, so be sure to find the right shade for each space. Now that you know a little bit more about your options, it's time to choose the best fit for your home!