As hurricane season continues, you may have let your guard down a bit, but we always advise to remain vigilant during this dangerous time of the year. Now, especially, with record high temperatures, the waters are warm in the Atlantic and the Gulf, which is a recipe for a storm to form at any moment. If you're new to the area or you haven't yet experienced a hurricane, it's important to be as prepared as possible, and part of this preparation is knowing what to expect. Fortunately, we tend to receive ample notice when the threat of a storm is imminent, but the time for preparation flies by in a blink of an eye. When it comes to what to expect before, during and after a hurricane, let us bring you up to speed, so you can stay safe.
What to Expect Before a Hurricane
Typically, meteorologists will begin reporting about a storm when it's a potential threat to our area. Although a storm can veer off course at any time, it's important to stay alert and updated by watching the news or tuning in to local weather reports. When it is confirmed that a storm is definitely on the way, there's no time to wait to get prepared. Steps include:
Deploying your home's hurricane protection.
Removing lawn furniture, outdoor décor, hanging plants, etc (remember…anything can become a projectile during a storm).
Trimming trees/shrubs.
Collecting last-minute supplies for your hurricane kit.
Knowing your evacuation route.
Some residents opt to remain in the area, while others evacuate. This will depend on the predicted strength of the storm, as well as where you reside. If you're asked to evacuate, you must obey. There is a reason for this mandate, and this is due to the fact that the area where you live is deemed unsafe during the storm.
What to Expect During a Hurricane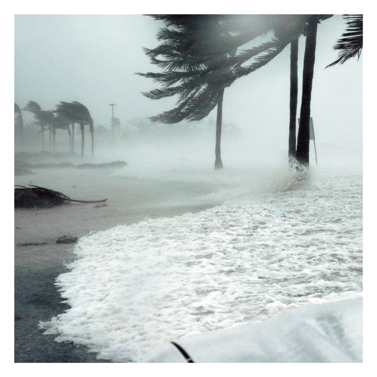 The storm's intensity will vary based on its category. Typically, you'll experience an abundance of wind and rain. Flying debris can also be expected, so staying indoors is a must. There may also be flooding, tornadoes and other natural hazards, depending on the storm. Losing power can also be expected, which is why we always recommend having flashlights and backup batteries at hand.
What to Expect After a Hurricane
Perhaps this is the most stressful part of the entire experience, as you're now past the storm, but surveying the devastation surrounding you. You may be without power for a few days or even a couple of weeks, so having ample non-perishable foods is advised, as well as plenty of gas for your generator. Boiling your water may also be necessary before using it to remove any contaminants. Although the duration of this will vary, depending on the strength of the storm, working together and staying safe should be a priority.
Don't Wait to Get Prepared for a Hurricane
A hurricane can occur at any time during the season, and right now, we're at the peak of it all. If you don't have proper hurricane protection already, do not wait until a storm is on its way. Outfit your home with some of the best hurricane protection available, like AstroGuard Hurricane Fabric, rolldown or accordion shutters. You want to be sure that you're staying as safe as possible during all points of a storm and having a layer of defense on your home is one of the best first steps to take during hurricane preparation.