When it comes to making a custom plantation shutter, there are quite a few steps to ensuring that you're provided with a top-quality product. From the initial measurements to the material selection and finally the manufacturing process and inspection, your brand-new plantation shutters have been through a lot! At Naples Shutter, we take extra measures to be sure that our products are held to the highest standards, and that's why we want to share the process with you.
Here's what it takes to make a plantation shutter.
Initial Measurements & Details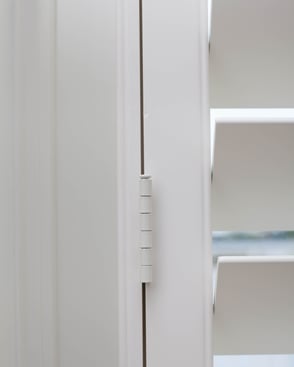 When you first start with our experts, they'll speak with you about what you're looking for and find a product that matches your vision and also your budget. Your dedicated rep with take initial measurements and if need be, send an installer out to get more detailed measurements. This ensures that your new plantation shutters will fit your windows correctly. No two windows are the same, so this step is important in ensuring an accurate fit.
The Manufacturing Process
The manufacturing process of your plantation shutters goes in stages. Here's how it works:
STEP #1—The louvers (slats of the shutter that open and close) are cut and sanded.
STEP #2—Once the louver tips are smooth, the holes are drilled.
STEP #3—The shutter "tree" is assembled. We use heavy duty dowel construction to ensure a tight rail (top and bottom of shutter) to stile (sides of shutter) connection. This allows us to provide a lifetime guarantee on our materials.
STEP #4—Our nifty machine attaches the staples to the louvers and the louvers to the tilt rod.
STEP #5—Another nifty machine drills the stiles, ensuring that all holes are evenly spaced, so that the louvers can be attached.
STEP #6—The plantation shutter is assembled together and clamped overnight. This ensures that the rail and stile connections are strong.
STEP #7—The panels are then cut to their final height with a panel saw.
After all this is completed, the shutters then get painted or stained to the customer's desired color. Many homeowners tend to match their plantation shutters to the trim of their windows; however, some go for a bolder look, matching a stained item in their home or their stained wood flooring. Every home is different, so it's important that the customer is happy with the paint or stain selection before the plantation shutters go off to the painter.
Inspection & Quality Control
Once the plantation shutters are painted, they will need to be fully dry before the inspection process can begin. This will vary, based on paint colors, brands, temperature, etc. When the plantation shutters are dry, the inspection team gets to work. They look for imperfections in the paint or on the shutter itself. When the shutter is perfect, it will get a seal of approval from the inspection team. Once that happens, the shutters are ready to be installed in their rightful homes.
Now that you know how it all works, it's important to choose a plantation shutter manufacturer that goes the extra mile to ensure a quality product. Be sure to find a reputable company that stands by their products and will find the right look for your home.