You may be sold on the idea of plantation shutters for your home. The elegance, functionality and sheer brilliance they add to a room is unmatched, but what type will work for you? There are a variety of options when it comes to plantation shutters, and not all options will work in all areas of the home. When it comes to outfitting your home with a product that will not only add beauty to the space, but increase the value of your home as well, it's important to make the right choice, based on the location of your windows.
What is the best type of plantation shutter for your home? Let's discuss...
Custom Wood Plantation Shutters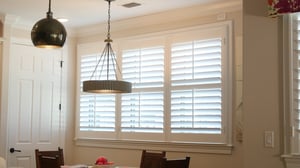 Perhaps the most popular, custom wood plantation shutters complement virtually any space, and are available in a multitude of customization options. From louver size to midrail location, you're able to design a look that's uniquely yours. Custom wood shutters are perfect for many areas of the home, including:
Living areas

Bedrooms

Hallways

Foyers

Guest suites
Homeowners also love the fact that plantation shutters can be painted or stained to match any room. Whether you're looking for a traditional crisp white look or a regal stained appearance, your plantation shutters are able to be customized to meet your design needs.
Although custom wood plantation shutters are versatile, they aren't waterproof, which means that they won't work in areas of the home that are prone to moisture. This means that another type of plantation shutter is recommended for these areas.
Poly Plantation Shutters
These durable composite shutters are perfect for areas that get wet, such as bathrooms and garages. Constructed of a smart synthetic material, poly shutters are a top pick for homeowners who want to achieve a cohesive look from one room to another. Customization options for these shutters include:
White or off-white color selection

Choice of two louver sizes

Specialty shapes available
The durable poly construction makes poly shutters resistant to warping, chipping and yellowing. This means that you can rest easy knowing that you're not going to ruin your shutters by getting them wet. Poly shutters are made for moisture-prone areas of the home.
PVC Shutters
Another option for plantation shutters are PVC shutters, which are very similar to poly shutters, in that they are moisture-resistant as well. Perfect for showers and bath areas, PVC shutters are waterproof and provide the privacy, light control and insulation that you're looking for in the space. With PVC shutters, you're also able to carry the look of plantation shutters throughout the entire home, and stainless steel hardware ensures that your shutters won't rust or deteriorate.
If you're looking to add beautiful plantation shutters to your home, you've made a wise choice! Plantation shutters are popular window treatments here in Southwest Florida, and come with a host of benefits like protecting your valuables and belongings from fading in the sun, lowering energy bills and giving you the privacy you need in your home. There's a plantation shutter product for every room in your home, so get started on creating the perfect look for your space.