When it comes to enhancing your property's curb appeal, nothing works better than adding exterior shutters to your home. With the multitude of color options, styles and functionality, exterior shutters are sure to turn heads. So, what exterior shutter style is right for you? Each home has a unique look, which means that what your neighbor has just installed may not be what works for the look and style of your home's exterior. It's important to take a look at your options and find the product that works with your home's exterior theme, your budget and the functions that you're looking for in an exterior product.
The Benefits of Exterior Shutters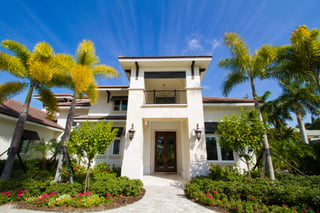 Not only are exterior shutters beautiful additions to your home, they're also extremely functional. Many exterior applications are available in hurricane impact-rated options, so you not only get the style that you're looking for, you also get added protection during inclement weather. Exterior shutters also help with energy savings, helping to keep the temperature inside exactly where you want it, thus decreasing energy bills.
So, now that we've gotten the technical stuff out of the way, let's move on to the fun part…your choices.
Exterior Bahama Shutters
Bahama shutters are hinged at the top of the window and prop open by way of a telescoping arm. Constructed of sturdy extruded aluminum, Bahama shutters are durable and can stand the test of our Southwest Florida elements. These shutters can be totally open, partially open or completely closed and come in over 200 varieties of powder coat colors. Other benefits of Bahama shutters include:
Security—When closed totally and locked, these shutters can protect against intrusion.
Storm safety—Bahama shutters also have a hurricane impact-rated option to protect your home and family during a storm.
If the look of Bahama shutters doesn't work with your home, don't worry…we've got plenty of other suggestions for you!
Exterior Colonial Shutters
Different from Bahama shutters, Colonials are attached to either side of your windows. Ordinarily, we see Colonials attached to both sides of the window; however, each home is different and may require a different installation. Colonial shutters are available in decorative or functional options. Decorative Colonial shutters are permanently mounted to the window and don't move. Functional Colonials are hinged on the right and left sides of the window and fold together to meet in the middle. Other benefits of Colonials include:
Available in over 200 powder coat colors
Hurricane impact-rated options
Arches, bi-fold and other unique configurations available
Some homeowners may want more of a plantation shutter look to their exterior shutters, and that leads us to our next suggestion.
Indoor/Outdoor Aluminum Plantation Shutters
Plantation shutters are beautiful. They add style to a space that's unmatched by any other product on the market (okay, maybe we're a bit biased). That's why many homeowners request a product that can be installed outdoors as well for patios, lanais and other outdoor entertaining areas. These louvered shutters are constructed of aluminum and require virtually no maintenance. Other benefits of indoor/outdoor plantation shutters include:
Multiple configurations available
Weather resistant
Durable and adjustable
Wood-looking stain and paint colors available
What Exterior Shutter Style is Right for Me?
What you're trying to achieve with your home's exterior will help you make a better decision when it comes to your exterior shutter selection. There are benefits to each of the products listed here today, so take your time now to do a bit of research and find the best look for your home. If you need a little help, we've got some experts that love to talk shutters. Give them a call at (239) 566-8161 or visit www.naplesshutter.com to learn more.