Mediterranean-style architecture first became popular in the U.S. during the 1920s. With warm wood tones, lively colors, and natural flow between indoor and outdoor spaces, it's no wonder people still love this style of home.
However, some elements of the Mediterranean style can start to look dated. Naples Shutter has tips to help you neutralize architectural elements without a complete renovation.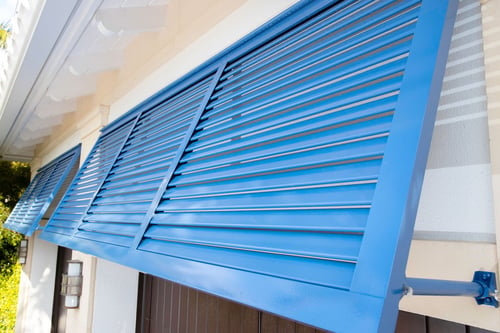 Columns, rounded arches, and heavy stone elements may not work with today's preference for simpler, brighter home environments. If you've become less enchanted with Mediterranean design, you may ask, "How can I update my home's Mediterranean-style architecture without spending a fortune?"
3 Tips for Updating a Mediterranean-Style Home
There are ways to refresh a home's interior that won't require a complete redo. If you're considering putting your home on the market or making a change for your own enjoyment, neutralizing some of the heavy or rustic-looking elements of Mediterranean design can help.
1. Change the Color Palette
There are essentially three types of Mediterranean home design. Italian style draws on the architecture of the Italian Renaissance and is marked by rich wood tones, arched openings, and saturated colors.
Spanish revival-style architecture is cleaner, with simple lines, white or light backgrounds, and boldly colored accents.
Modern Mediterranean blends both these styles and focuses on open floor plans and indoor-outdoor living.
Depending on which style your home was built in, changing up the colors is an effective way to downplay architectural elements you can't remove. Consider painting dark cabinets in a lighter tone. Cover those bright Tuscan oranges and blues with a coat of off-white paint.
If your home is already light and bright, use color to create a feature wall to draw attention away from an architectural feature you can't remove.
2. Downplay Arched Windows
Arched openings and windows are a major feature of Tuscan-style Mediterranean design. Eliminating arches is a costly endeavor, but you can emphasize them with the help of Bahama shutters.
These shutters are designed to fit over arched windows. They have a modern appeal with sleek lines and functional benefits such as:
Durable construction from extruded aluminum
A number of powder coat options
Reduced energy bills
The option to be opened fully, halfway, or fully closed
Providing shade
Hurricane-impact options
Bahama shutters won't make those arched windows disappear, but they will give them a timeless, updated look that fits in with a more modern design aesthetic.
3. Declutter
Obviously, displaying fewer knick-knacks won't change your home's architecture, but it can help your home look more modern. Rustic accessories like pottery, copper pots, and bunches of dried herbs and flowers are popular accessories in Mediterranean homes. Eliminating these types of elements will help you create a clean, neutral appeal.
Keep new accessories simple. Use them to add a pop of color or draw the eye away from other features, but avoid accessories simply to fill space.
How Can I Update My Home's Mediterranean-Style Architecture?
A few minor changes can make a world of difference in your home's overall look. Consider color and accessories to downplay architectural features you no longer love. Window coverings like Bahama shutters from Naples Shutter are an instant update that won't require hiring a team of contractors. Call us today to learn more.