Designing the look of your home is something that takes much planning and consideration. After all, you don't want to choose design elements that will be out of style by next year, yet you want to remain with the times when it comes to contemporary interior design. Perhaps one of the most impactful choices you will need to make are your window treatments, as these can make or break the image of your home in an instant. Choosing window treatments that don't work with the theme of your home, or worse, products that are outdated, can make your entire home seem outdated as well. That's why designers advise homeowners to choose options that will stand the test of time. So, do you go a more traditional route with your window coverings or take a risk and go more modern? When it comes to traditional vs. modern window treatments, what's the difference?
Traditional Window Treatments
Traditional window treatments have been around for a while, which means that they're timeless enough to add that classic look that many are going for in their homes, yet trendy enough to continue being top options year after year. When choosing a more traditional style for your home, you'll want to stick to some of the following window treatments for best results:
Plantation shutters
Drapery panels
Honeycomb shades
Vertical shades
Choosing to go a more timeless route with your window treatments allows you to enjoy them for a longer period of time, as opposed to choosing something super trendy that will go out of style in a matter of months. After all, quality window treatments are an investment, and you don't want to have to shop for window treatments each year. This can really add up and it can take a lot of time out of your busy schedule as well.
Modern Window Treatments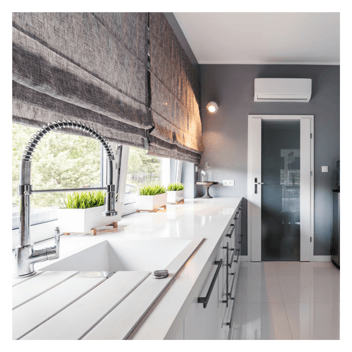 Not to be confused with trendy window treatments, modern window treatment products are geared more toward today's contemporary homes, yet still exhibit that timeless look making are seeking out for their homes. Perfect examples of modern window treatments include:
Roller Shades
Simplistic drapery panels
Woven wood shades
Plantation shutters
Modern window treatments add a little more excitement and depth to a space; however, they also tend to blend in seamlessly with a contemporary home's design. This allows them to be embraced by many homeowners all over, especially here in Southwest Florida. They deliver just the right amount of interest to the space, without being too overwhelming, and with so many patterns, colors, and options to choose from, finding the ideal window treatment product for your modern home is easy with today's fantastic options.
Traditional vs. Modern: Which Should You Choose?
When it comes to your window treatments, the choice is up to you to find what will work with your home's style. It's made easier by partnering with a reputable window treatment company with professionals who will help guide you to the best choice, based on your design needs and budget. If you're looking for a product that appeals to both traditional and modern homes, plantation shutters won't let you down. Plus, with the ability to customize them to suit your needs, your home will surely stand out with custom shutters adorning every window. Remember some of these choices when you're shopping for window treatments, so you're able to find a product that complements your home perfectly for years.