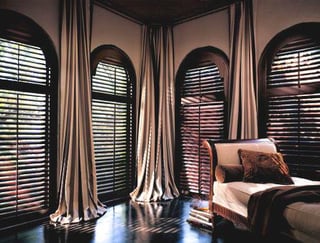 Your living room is a focal point in the home. You welcome guests into it, entertain friends and family and relax with your loved ones. It's no wonder why homeowners are becoming more and more conscious of their window treatments in this popular area of the home. Today, we're here to talk about the top window treatments for living rooms to meet any style and budget. So, get ready to be inspired!
Custom Plantation Shutters
One of the top choices, especially here in Southwest Florida are plantation shutters. These custom-made louvered shutters are manufactured specifically for your home's windows and come in various shapes, sizes and customization options, including:
Standard tilt (open and close the slats with a rod running down the center of the shutter)
Hidden tilt (open and close the slats or louvers by a mechanism in the back of shutter, eliminating the tilt rod in front)
Midrails (a rail running across the shutter, so that the top and bottom louvers can be operated independently)
2 ½, 3 ½, 4 ½ and 5 ½ louver sizes
There are also many specialty shapes that your plantation shutters can be, including:
Traditional panels
Sunbursts
Octagons
Sidelight panels
Other specialty shapes
Your custom plantation shutters can also be painted or stained to whatever color you like. All of this makes plantation shutters a top pick when it comes to the perfect living room window treatments.
Luxury Sheers
Vertical blinds, gliding panels and other sheers make up the luxury blind selection. Made of top-quality materials and designed with elegance in mind, luxury sheers are a popular choice for living room window treatments. Many luxury sheers come in multiple styles, colors and operating systems to choose from, including power motorization that you can control from just a touch of a button. Try adding a custom valance to complete the look to have your living room is on its way to elegance.
Woven Wood Shades
Woven woods are a versatile and unique way to cover your living room windows, adding texture, color and warmth to the room. Created from natural materials, including grass, woods and reed materials, woven woods offer depth and interest to the room. Choose from a number of colors and styles to customize the look. Choosing these types of shades helps with light filtering through your windows – have privacy, yet let light in.
With many shades, blackout options are available for ultimate privacy. The top-down, bottom-up option is another great way to customize your shade. Being able to open the top, while keeping the bottom of the shade closed, or vice versa, allows for light where you need it and privacy where you don't. Choosing to add shades to your home is among one of the most popular choices for homeowners.
Making the Right Choice
Choosing the best window treatments for your living room depends not only on the style you're going for, but also your budget. We recommend not to go with just any window treatment product. Do your research and make the best choice that meets your vision. Whether you're looking for more traditional plantation shutters or eclectic shades, there's a product out there for everyone.