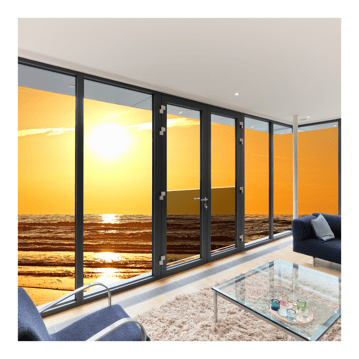 The views that they showcase are phenomenal, allowing the space to be bathed with light, creating an open, airy feeling in your home. Yes, large windows do something for the home that makes it infinitely more enjoyable, no matter what the weather may be outside. Here in Southwest Florida, we're lucky to take advantage of sun-filled days more often than not, which makes large windows very popular in our homes. From reveling in the iridescent glow of our nightly sunsets to letting the sunshine penetrate through the home from multiple angles, more homeowners are choosing to incorporate large openings in many rooms of the home. Although these openings offer their fair share of perks, one thing is certain…they will eventually need to be covered. Whether it's privacy you're searching for or protection of your furniture and valuables from fading in the sun, you'll want to outfit your large windows with the proper window coverings. That's why we've come up with a list of the top window treatments for large windows.
Custom Plantation Shutters
Not only are plantation shutters beautiful on their own, the look that they provide to a space, especially when they're covering a large opening, is timeless. The clean look that they give off further enhances the contemporary feel that homeowners are striving for nowadays, and being able to customize them really makes them stand out from the other options out there. Choosing from different louver sizes, midrail location, tilt option, color and more allows you to design the shutters that work for your space, completely custom-made and tailored to your style. Plantation shutters are durable and are able to offer you the right amount of light filtering capabilities, so that you're able to enjoy your space and all the light that your large windows let in.
Vertical Sheers
Sheer vertical blinds provide an upscale look to the space, offering homeowners the chance to really make the space their own, showcasing their own unique style in the process. Sheers, like Luminettes, feature vertical vanes and sheer paneling, which offer a soft look, blending perfectly into today's modern home. Light diffusing properties, as well as various customization options make vertical sheers a top pick for those who want to express themselves with their window treatments.
Roman Shades
Roman shades are another top pick for large windows, especially when you're desiring a custom look. Clean, modern style, many fabrics and colors to choose from, and operation options, including motorization, allow Roman shades to be a go-to product for all types of windows, especially large openings. Add a luxurious appeal to your space by opting for Roman shades, designed especially for you to enhance the look of your home.
Other Window Treatments for Large Windows
We have a few more favorites when it comes to covering a large opening, as this cumbersome area may seem a bit daunting. These include:
Roller shades
Layered blinds & drapery panels
Horizontal sheers
Remember, this is a large area, so the window treatment product that you choose will undoubtedly affect the overall look and feel of the room. That's why we recommend sticking to these aforementioned products, so that you're able to create a space that's functional, private and above all else, enjoyable to be in…one that you'll be satisfied with for years.