We're willing to bet that many of you spent more time at home last year, and if you did, you may have been glaring at your window treatments knowing that they're in need of a reboot. The new year is the perfect time to finally get around to revamping your home's style, so is there anything you should know before you start? There can't possibly be any changes to what's popular in the world of window treatments in the past couple of years, right? Well, the answer may shock you! Window treatment trends evolve and emerge just like anything else in the home, and in today's unique world, your home does more than just provide you with a place to sleep. It's now an office, daycare, learning zone and more, which means that how you decorate it is important. Here are some of the top window treatment trends of 2021 to help you revitalize your space and design it in a way that works for you.
Modern Minimalism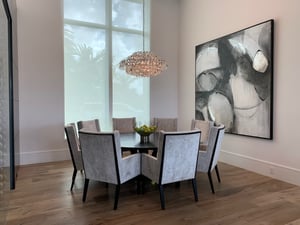 Less is more these days, especially when it comes to your home's design. That's why simple roller shades are gaining in popularity, due to the fact that they blend into the space, while enhancing its functionality at the same time. The days of ornate drapery treatments with flowing bottoms and intricately-designed tassels are over. Homeowners want simplicity in their spaces, like clean lines and openness. When it comes to creating that feeling in the space, roller shades are perfect to give you the privacy you need without taking away from the look you're going for in your home.
Layered Looks
Another popular trend for 2021 is the layered look, meaning multiple window treatments on one window. This is especially helpful in spaces where you need extra privacy, like the bedroom and bath areas. An example of this would be custom plantation shutters with black-out shades behind them. The blackout shades provide necessary privacy and allow you to sleep past sunrise in sunny rooms, while the plantation shutters give you that timeless look many Southwest Florida homeowners love.
Accent Pieces
When it comes to the modern home, minimalism reigns supreme; however, accent elements like artwork, wallpaper and more are also important to the integrity of the space's design. An accent wall in the dining room to match the front door or pops of color throughout the home help to liven up the room a bit. The same goes for your window treatments. Woven wood blinds with their rich, natural textures help to add depth to the space and roller shades bathed in a fun design help to brighten the mood of the room. Don't think of your window treatments as plain and boring, instead use them as artwork for the room.
Luxury Sophistication
Refined designs are what sets a modern home apart from the rest, and if you're looking to add a level of luxury to your home, your window treatments can help. Many options from Hunter Douglas are available to enhance the ambiance of popular rooms, like the dining and living room areas such as:
Silhouette Shades

Pirouette Shades

Luminette Privacy Sheers
These window treatments not only protect your valuables from fading in the sun and lower your energy bills, they also provide you with sophisticated privacy and upscale design in the space.
2021 Window Treatment Trends
If you're looking to bring your home's design into the present century, your window treatments are a good place to start. Not only can they transform the feeling of the space, they're able to enhance the room's design. So if you're looking to revamp your space in 2021, keep these popular window treatment trends in mind to make the most out of each space in your home.