Your window treatments say a lot about a room. They have the potential to bring life, character and style to the space, and knowing how to customize them to fit your unique needs is key. From plantation shutters to luxury sheers, you've got options when it comes to the look, feel, operation and more, so don't be shy about choosing what works for you! If you're not sure where to start, let us offer some helpful advice. Here are our top tips for customizing your window treatments...
Plantation Shutter Styles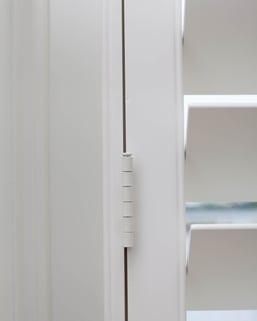 Plantation shutters are not only extremely functional, their crisp, clean beauty offers class and sophistication to a room. From dining rooms and living spaces to bath and kitchen areas, plantation shutters simply work. One of the first options you'll have is color. Many Southwest Florida homes have embraced a coastal contemporary style and feature clean white shutters throughout; however, plantation shutters can be painted to match pretty much anything! Match your trim, add them as accent pieces or stain them to add a regal feel to the room.
Plantation Shutter Operation Options
You'll also be able to choose the operation of your shutters. Adding a midrail to the center (or anywhere you'd like for that matter) allows you to operate one part of the shutters separately from the other, having light where you want it and privacy where you need it. Choose from a number of different louver sizes, ranging from 2 ½ inch louvers to 4 ½ inch louvers. Remember, the smaller the louver, the more busy the look is going to be and the bigger the louver, the more light you'll allow into the space.
You'll also be able to choose between standard tilt and hidden tilt. This is the way that you'll operate your shutter louvers. Standard tilt includes a tilt rod that is placed down the center of the shutters, allowing for simple operation. Just take a hold of the tilt rod and tilt up or down to move the louvers. Hidden tilt places the tilt rod behind the shutters, creating a clean look. Depending on your style, your method of operation will vary.
Blinds & Shades
Think you've got options when it comes to shutters? Just wait until you explore blinds and shades! With a multitude of styles, ranging from luxury sheers to honeycomb shades, there's a product available to meet your needs and be customized the way you desire. Customization options include:
Style
Color
Texture
Material
Blackout options
Other operating systems
There is a product available to fit virtually any opening, so if plantation shutters aren't for you, you'll be sure to find a shade that fits the space. You can even add a custom valance to your window treatments as well to create an element of style in the room.
Customization Possibilities
As you can see, the possibilities are endless when it comes to outfitting your space with the right window treatments for you. Being able to customize your window treatments allows for a seamless look in the room, paired with the functionality that the space needs. Design the right fit for your space and have fun with it! Choose the product that works for you, then make it your own. Your home deserves it.