Nowadays, with all of the data floating around on the internet, it's easy to become stuck in a web of misinformation, especially when you're shopping for window treatments. It's no secret that you have quite a selection to choose from, ranging from shutters to shades, draperies and other products, so how can you be sure what you're reading is true, in order to make the right decision? Well, it helps to read it from a reputable company, one that is respected in the area and is well-versed in window treatments. Perhaps the product that has the most misinformation flitting through internet pages are plantation shutters. Here in Southwest Florida, especially, plantation shutters are the go-to solution to add beauty, value and integrity to your windows. Whether you're new to the area, new to the world of window treatments or both, get ready, because we're tackling some of this misinformation head-on.
Here are the top plantation shutter myths, debunked.
Myth #1: Shutters and Blinds Are the Same
We hear a lot of customers using the terms shutters and blinds interchangeably; however, these are two completely different products. Plantation shutters are made from quality hardwoods with louvers that open and close, in order to let light in, while creating the privacy you're seeking in your home. Plantation shutters are installed to the window frame, while blinds are typically attached above or inside the window recess. Typically operating by slats held together by cords, blinds can be made from a variety of different materials, and range from honeycomb options to luxury sheers and everything in between.
Myth #2: Shutters Are Too Expensive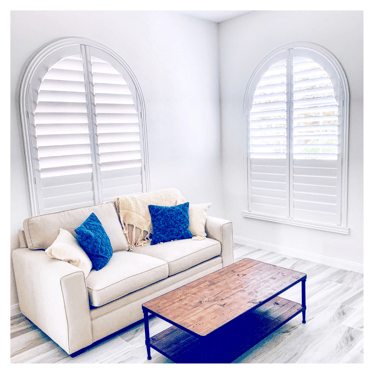 Plantation shutters are among one of the best enhancements you can make to your home to add more value to it and increase its functionality. Not only that, they're custom-fitted to your windows, so that you're able to enjoy a window treatment product that's built-in to your home. When you work with the right company, one that knows the ins and outs of the industry, you're able to have the peace of mind you require. You'll know that you made the right choice with your window treatments and that they'll fit perfectly, instead of risking it by choosing a one-size-fits-all approach at your local home improvement store.
Myth #3: Shutters Are Only for Certain Home Styles
No matter what style of home you're looking to create, plantation shutters blend in seamlessly. The ability to paint or stain them to match the room's style is also a big advantage of shutters. All in all, plantation shutters have a place in any type of home, from coastal contemporary to mid-century modern, making their versatility unmatched in the industry.
Myth #4: Plantation Shutters Are Only for Certain Types of Windows
The ability to design plantation shutters, custom-fitted to your home, is what makes this product so popular. Plantation shutters can be made into many shapes including:
Sunbursts
Archways
Skylights
Sliders
Specialty shapes
Being able to enjoy shutters throughout the home is what many homeowners desire, further enhancing the appeal of this product.
Myth #5: It's Easier to Buy Them from a Box Store
Although it may be appealing to take some measurements and then go to a big hardware store to find your shutters, this is not advised. Not only are you at risk for mismeasuring and choosing the wrong size shutter, you may be disappointed in the quality. For best results, stick to a company that manufactures them right in town with a team that's knowledgeable and experienced to help guide you to your best options.