There's a myriad of options for covering your windows these days...plantation shutters, shades, draperies, the list goes on. But what are some of the best window treatments for French doors? Many homes have French doors, and homeowners have a tough time deciding what works best and completes the look that they're going for.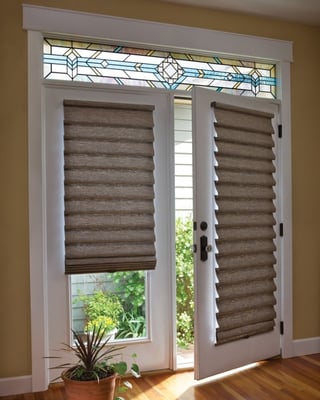 Let's check out the top five window treatments that we recommend for French doors.
1. Plantation Shutters
Plantation shutters are a top pick for French door window coverings. Custom made for your French door opening, plantation shutters can be painted or stained to match the interior of the space. They also allow light to enter when you want it to and block the light when you don't by tilting the louvers up or down.
Trying to work around a tricky door handle? No worries, plantation shutters are custom fitted around the handle, so you can open it and close it with ease. Whether you have a lever handle or a knob, a cutout around the handle makes for seamless operation.
2. Roman Shades
Maybe the shutter look isn't for you. That's no problem at all! Roman shades are another great way to cover your French door opening. These tiered shades fit comfortably behind any handle, so opening and closing your door is a sinch. Roman shades are available in a multitude of colors and styles to add texture to the room and are a great alternative for those who don't want to deal with bulky drapes.
3. Woven Woods
Add some charm to the space with woven woods. Available in many styles and textures, these shades are a great option for covering your French doors. Super simple to operate, these shades add a natural touch to the room and are hand-woven from light filtering grasses, woods and other natural materials.
4. Fabric & Draperies
Perhaps a more traditional option, draperies and curtains can be a great look for your French doors. To add a bit of modern flair, try selecting a bright pattern that contrasts with the rest of the room to make the space pop. Patterns can also bring some new life into the room, or a simple white can draw it all together. Try out some different styles and see what happens!
5. Frosted Window Panes
Looking for something a little different? Try frosted window panes. This is a great option if you don't want something in the way of the French door itself. Frosted window panes provide an excellent look, yet still offer privacy. Check out some contemporary looks and see for yourself how frosted window panes really bring a room together.
Choose What Works For You
In the end, it's all up to you. After all, you're the one who has to live with it! If you want to keep it sleek and simple, try plantation shutters. If you want a more rustic look, Roman shades or woven woods might be right for you. More traditional? Curtains might be the way to go. In the mood to be a little daring? Try bold, patterned draperies or keep it simple with frosted window panes. No matter what, there's something out there for you.