Whether you're redecorating or building a new home, one of the aspects of your home's design is choosing window treatments. With plenty of options to choose from, ranging from affordable mini blinds to ornate drapery panels and custom plantation shutters, the possibilities seem endless. The fact of the matter is that finding something to cover your windows is imperative, especially with all of the sun that we get here in Southwest Florida. We're here today to talk about the top reasons for installing window treatments in your home…they may just surprise you!
Provide Privacy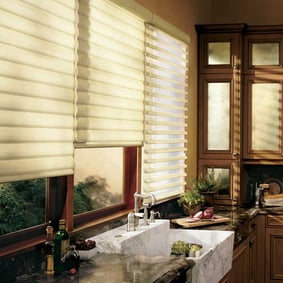 One of the best reasons to install window treatments in your home is privacy. Whether your neighbor is ten feet or ten miles away, having something covering your windows is crucial to maintaining privacy. Window treatments, such as top-down, bottom-up shades have the option to open the top half of the shade, while keeping the bottom half closed, or vice versa. Plantation shutters also have this option, depending on the type that you choose.
Protect Belongings
Another great reason to install window treatments in your home is to protect your belongings from sun damage. Items like furniture, carpeting and artwork all are at risk for fading with all of the UV rays that we get every day. Installing custom window treatments that securely fit your windows helps to protect your valuable things from becoming damaged.
Increase Resale Value
Something that you may not think about when installing window treatments is increasing the resale value of your home. Not all window treatments are created equally though. Choosing to upgrade your window treatments to custom-fitted luxury sheers or plantation shutters helps to increase the value of your home, which will pay off if or when you decide to sell.
Add Style
One of the more obvious reasons for installing window treatments is adding style to your home. Your windows make up quite a bit of your home, so don't let them go unnoticed! There are many types of window treatments out there, and all are different when it comes to adding style and sophistication to a home.
Plantation Shutters—These custom-made window treatments are a traditional choice when decorating windows, especially in Southwest Florida. Their crisp, clean look adds instant style to a room.
Blinds & Sheers—Available in many colors, styles, textures and operation modes, blinds and sheers range from simple to sophisticated.
Drapery Panels—No longer dated and drab, custom drapery panels add a contemporary look to your windows with sheer panels in neutral tones.
Window treatments vary in style, as well as price, so be sure to choose the right product for your home and your budget.
Save Money
Window treatments also help you to save money on your monthly electric bill. By limiting the amount of sunlight that comes into your windows, it helps to keep the cold air in the house, instead of escaping through your windows. Limiting this escaping air keeps your air conditioning system from overworking, thus decreasing your electricity bill.
As you can see, installing window treatments in your home has obvious advantages. Be sure to choose the right fit for your home that meets your vision, provides functionality and fits within your budget.