If you've ever tuned into HGTV, followed a home décor professional on social media or started your own board of home design ideas on Pinterest, you know that there's a right way and a wrong way to decorate a space. The right way can make your home shine as a beautiful, functional place to be, while the wrong way can completely date it or disrupt its flow, and when it comes to window treatments, they're not to be overlooked. Your window treatments have the potential to make or break your home's look and one wrong choice can wreak havoc on your design. So, take it from the experts when it comes to your home's window treatments.
Here are some tips from the pros on choosing the right window treatments for your home.
DO Choose a Window Treatment that Blends In with the Space
Not every window in your home is going to look right with the same type of blind or even with a set of plantation shutters for that matter. Unique window shapes like archways and sliders can pose a challenge when you're trying to keep your window treatments the same throughout your home, which is why choosing your window treatment based on what works with the space is key. Maybe your sliding glass doors don't look as seamless as you want them to look with shades and plantation shutters complement the look better. Forget trying to make each and every window uniform, especially if it's not creating the right vibe in the space.
DON'T Choose Too Many Contrasting Styles
Now along with choosing the right application for the space comes not mixing and matching too many different styles. Too much of anything can mean disarray and confusion, and it can make the space look too busy. Although choosing a couple of different window treatments throughout the home is recommended, selecting different window treatments for every single window is not advised. Stick to a couple similar designs to help bring a cohesive feel to the space.
DO Add Layers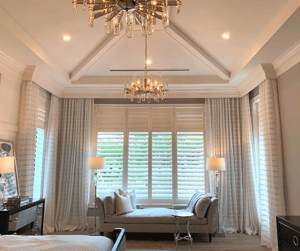 Layering up your window treatments can really make the space more elegant and also more functional. Not only does the right window treatment pairing add depth and texture to the room, it also enhances its job. After all, your window treatments have an important responsibility, which is to add an element of privacy to the home. Think of layering your plantation shutters with blackout shades behind them in rooms where you need extra privacy or add in a sheer drapery panel to a luxury shade for a more sophisticated approach in the room.
More Do's and Don'ts for Window Treatments
When designing the perfect look for your space, keep the following in mind:
DO express your style and individuality with your window treatments.

DON'T choose too many trends in one space.

DO opt for water-resistant options in moisture-prone areas.

DON'T choose draperies or fragile blinds in areas, like kitchens, bathrooms and garages.
In your efforts to make your home your sanctuary and a place where you can relax and unwind, keep these ideas in mind when choosing the right window treatments. You may not realize how important these are to the space until you've chosen the wrong products. That's why we recommend working with a professional to ensure you're designing the look you want and need in your home.