No, it's not still March, even though it seems to feel like it. The new year is upon us, which means hope for a fresh start, new adventures and for many, new home improvement projects. The new year is an ideal time to finally tackle some of the projects around the house you've been putting off, and with all that 2020 brought with it, we don't blame you for wanting to enhance your home. Now that we spend a lot more time there, it's important to make the necessary upgrades to be able to enjoy it, and one of the popular areas that may be due for an upgrade are your windows. You may be looking at dingy drapery treatments or boring blinds, knowing that it's time to get started on finally getting the window treatments you've always wanted, but where do you start? From plantation shutters to luxury sheers, wood blinds to PVC options, you have your work cut out for you when it comes to selecting the window treatments that work best for your home.
If upgrading the look of your windows is on your to-do list, let our pros help you with our top tips on finding the perfect window treatments for the new year.
Dial In Your Design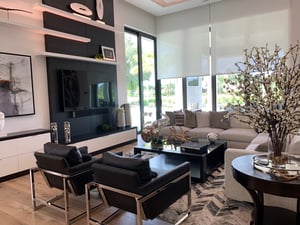 Each home has a unique feel to it, which means that not every type of window treatment is going to work in every space. For example, rustic woven woods may look fantastic as accents to a sleek, modern space, but may not look too appealing in an industrial style home. Dial in your design and figure out which look you're wanting to achieve, then take a look at your options to see which will complement the space the best. You'll also want to find the purpose for each window treatment. From blackout shades to water-resistant shutters, figuring out which space needs which type of window treatment will be important in the process.
Set a Budget
It's imperative to set a budget for any home improvement project. This way, you're not going overboard and spending too much for certain aspects of your project and not having enough money to use elsewhere in the home. Setting a budget early helps you assess your options and choose the products that not only work in the space, but work for your budget as well.
Explore Your Options
Shopping for window treatments is fun, and with so many options available you're able to create virtually any look you want for any room in your home. Popular window treatment options for 2021 include:
Custom plantation shutters

Luxury sheers

Roller shades

Woven wood shades

PVC & poly shutters
While some Southwest Florida homeowners and designers simply can't get enough of clean, crisp plantation shutters, others prefer the look of shades. In the end, the choice is yours to make, so knowing what you need, what works in the space and what you can afford is important.
Work with a Reputable Company
It can be easy to scroll through a few web pages and think you know what you're looking for, but actually seeing the products in person and having a knowledgeable rep helping you along the way just can't be beat. We recommend partnering with a window treatment company, so that you can make the most out of your window treatment project in the new year.