Hurricane Season 2020 is quickly approaching, which means it's definitely time to start thinking about getting your home outfitted with proper hurricane protection. June 1st marks the beginning of the season, which is just mere weeks away...meaning that you have just mere weeks to get a plan together on how you're going to protect your home. At Naples Shutter, we always recommend getting started early when it comes to preparing for hurricane season, because the last thing you want, when a storm is on the way, is to not be protected properly. Although there are a lot of options out there when it comes to hurricane protection, not all products are effective...or safe. If you want to maintain the safety of your family and the integrity of your home, there are some options to avoid at all costs.
Here are the worst hurricane protection options for your home.
Plywood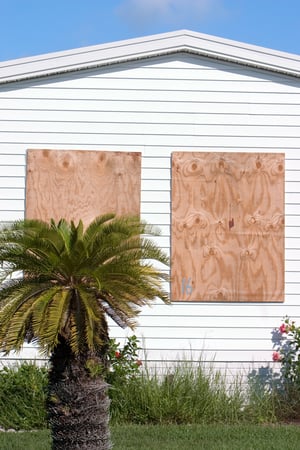 You may have seen it in the news or portrayed in the movies...Floridians getting ready for an approaching hurricane by nailing plywood to their windows. Although in theory it may sound like a good idea, there are far too many problems with this form of "protection" that make it one of the most unsafe options out there. For one, plywood is not as durable as you think, especially when it comes to flying debris, wind and rain. Many items can become projectiles during a hurricane, which means that plywood can easily become pierced by these objects, damaging its integrity and most likely, breaking your windows, allowing the strong wind and rain to blow into your home. Other problems with plywood include:
No tight seal around windows, leading to water damage

Improper fit, potentially leading to roof lift-off

Damage to the structural integrity of the home

Dark, cave-like feeling when inside

Time it takes to prep the plywood and fit it onto your windows
You may think that having plywood on your windows is better than not having anything at all, but beware. There are a lot more limitations, rather than benefits that can pop up with this hurricane protection option.
Ill-Fitting Hurricane Protection
Rummaging through the garage, you may have found a few old hurricane panels or you may have found someone getting rid of some at a yard sale. We can't emphasize this enough...unless hurricane protection is specifically measured and manufactured for your home, don't use it! Ill-fitting hurricane protection is even worse than plywood...or no protection at all! You see, as heavy winds ravage our surroundings during an intense storm, pressure builds up, due to the improperly fitted hurricane shutters. This results in a build-up of pressure in the home that needs to escape. So, how does it escape? Through the roof! Roof lift-off, due to a build-up of pressure is unfortunately very common during hurricanes, especially when ill-fitting hurricane protection is involved.
No Protection
There is so much more that goes on during a hurricane than wind and rain. Like we mentioned above, everyday items, such as lawn chairs, grills and yard decorations have the potential to become missiles during a serious storm, causing intense devastation to whatever comes into their path. Trees, downed wires and cars can come crashing through your home, which can cause catastrophic damage. It's not just about wind and rain that makes not having hurricane protection a big mistake. The next time you look at your neighbor's garden gnome, think about the damage it could do to your windows when launched at 130 mph.
When it comes to the safety of your home and your family during hurricane season, proper hurricane protection is key. It's not too late to protect your home, so don't wait! Find the right form of hurricane protection that matches your needs and your budget and rest easy knowing that you're protected.