With their versatility, beauty and not to mention, vast selection, it's no surprise that more and more Southwest Florida homeowners are choosing blinds and shades to cover their windows. No matter what style you're looking for, there is an option out there for you to be able to complement any space. From sunny living rooms to lanais and more, blinds can be the perfect solution to not only provide the privacy you need in any room, but also protect your furniture and other belongings from fading in the sun, as well as lower those energy bills. When it comes to the ideal shade for your home, you've got options, so let's explore those options in the ultimate guide to blinds and shades.
Woven Wood Shades
Known to be more eclectic, woven wood shades are meant for those who are seeking some serious style in their space. Made from various natural materials, like reeds, grasses and woods, woven wood shades add that element of nature that more homeowners and designers are seeking for homes here in Southwest Florida. Not only are there so many styles, colors and textures to choose from, you're able to give your space a unique look. And with motorization and blackout options available, you can customize your shades to function perfectly in any room. If you're looking to make a statement, woven woods will surely get you there.
Roller Shades
Perfect for sunny areas of the home, like living rooms and lanais, roller shades bring a subtle hint of beauty to the room. You're able to choose from many colors and styles to create the look you desire, allowing you the simplicity you need in some spaces with the style you want in others. With many sheerness options available, as well as operation options, you're able to filter sunlight perfectly, complement your space and protect your belongings from fading with absolute ease and efficiency.
Luxury Sheers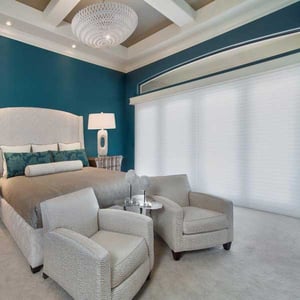 For those looking to create the ultimate luxury ambiance in the home, luxury sheers are a top choice. Elegant, sophisticated and stunning, luxury blinds and sheers provide next-level style to any space and are available in a number of options. Here at Naples Shutter, we proudly feature the following from Hunter Douglas:
There are also gliding panels and vertical blinds available, as well as luxury options for arched windows and other uniquely-shaped openings. When you choose a luxury sheer for your windows, the whole room becomes transformed into an upscale escape.
Other Options
For a more simplistic look, cellular shades and wood blinds are go-to options. Cellular shades, otherwise known as honeycomb shades, feature a specialized design (reminiscent of a honeycomb) with energy-saving capabilities, which help to lower energy bills, keeping your home warmer in the winter and cooler in the summer. Wood blinds offer a clean, rich look with their wood-grain finish, crafted from only the finest North American hardwoods. Both options are not only affordable, they offer timeless beauty to any space.
When it's time to choose the right blinds and shades for your home, your options are limitless! From sophisticated luxury sheers and versatile woven woods to classic wood blinds and functional roller shades, the best option for your home awaits.