When you want to add the wow factor to your home, nothing does it better than the right window treatments. And although you want to strive for a look of continuity throughout, certain window treatments just work better in certain spaces. Designing your home means finding styles that work with each room, as well as those that work well with each other, which is why we've compiled a list of our favorite window treatments for each space in your home. After all, you want your home to flow seamlessly, and carefully selected window treatments will make a world of difference. So, let's talk about the perfect window treatments for every room in your home.
Kitchen and Bath Areas
We'll start off with two of the most popular areas of the home, the kitchen and bathrooms. And when it comes to selecting the right window treatment for this space, it doesn't just come down to looks, you'll need function as well. Our top picks for these moisture-prone areas are PVC shutters or poly plantation shutters, as these window treatments are water-resistant and ideal for holding up to the elements. If plantation shutters don't fit into your home's style, we recommend roller shades for a more minimalist approach or woven woods if you're looking to make more of a statement.
Living Rooms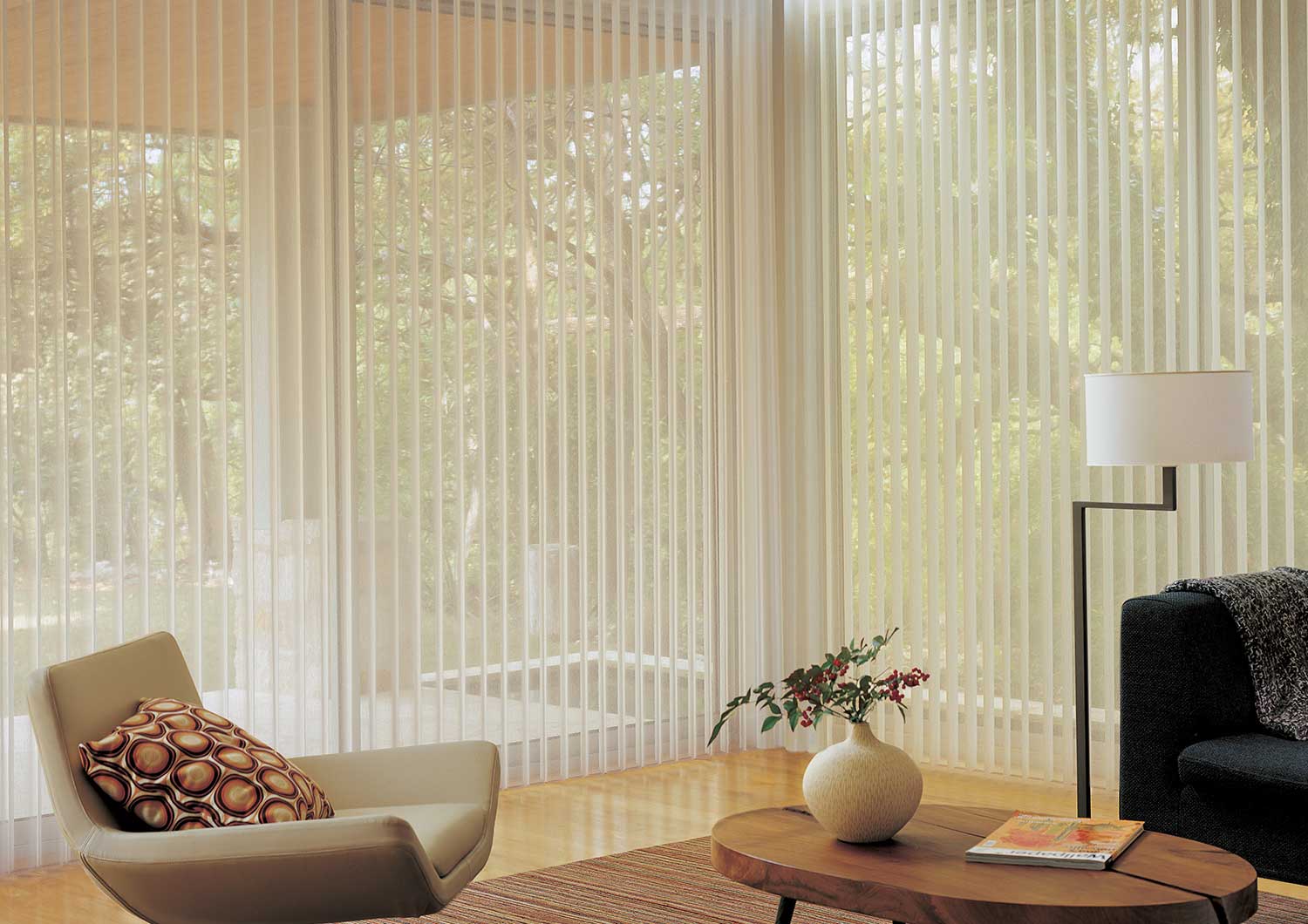 This is where you're able to really create a stylish look in your space, and what type of product you choose here will depend on the look and feel of your home. Popular window treatments for living rooms include:
Custom plantation shutters

Gliding panels

Light drapery panels
The idea is to add a hint of style to this space, since this room tends to have a lot of windows to cover. You don't want to pick a window treatment that has too much going on or it will take away from the overall look of this large space.
Bedrooms
Not only do you need privacy in the bedrooms, you'll also need a product with supreme light filtering abilities. That's why we recommend blackout shades for this area of the home, so that you're undisturbed by the bright morning sun, and you're able to adjust them so that you can enjoy the sunshine during the day. If you want to carry the look of plantation shutters throughout the home, add in a blackout shade behind them for maximum privacy and light control.
Dens and Offices
Dens, studies and offices tend to have a more regal appeal, and no other window treatment showcases this style quite like stained plantation shutters. Match them to your trim or a piece of furniture for the perfect complement to the space. On the flipside, if you're looking to create a light, bright and airy office space, opt for crisp white plantation shutters or soft shades to blend in to the lightness of the space. Whether you're looking for a more regal look or a bright modern look, you can achieve it with your window treatments.
The Perfect Window Treatments
Everyone's home is unique, which means that there's no one-size-fits-all approach to your window treatments. The good news is that certain window treatments accent a space better than others, so if you stick to our suggestions, you should be able to create the look and feel that you desire in each room of your home. And remember, partnering with a reputable window treatment company with professionals who will help you decide on the right window treatments will make all the difference.