The weather is heating up here in Southwest Florida, and there's no denying it…summer is on its way and it'll be here sooner than you think. If you're concerned about maintaining a level of comfort in your home, you're certainly not alone, and your window treatments can play a big role in keeping your home cool during these steamy summer months. When shopping for window treatments, you not only want a product that meets your needs and budget, but you also want one that can withstand the intense heat that radiates against your home day in and day out. That's why we've compiled a few of our favorite window treatments that work harder than the rest when it comes to keeping your home cool in the summer and thus, helping you save on your energy bills.
Here are some of the most energy efficient window treatments…
Cellular Shades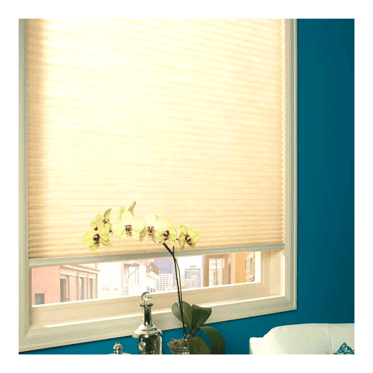 This product is perhaps the best choice when energy efficiency is on your mind. Cellular shades are made up of tiny pockets, or honeycombs, that trap in the air that seeps in around your windows. This results in keeping warm air in during those slightly chilly winter months and keeping your air conditioning running effectively during our long, hot summers. Cellular shades are available in a number of color choices, so finding the right shade to complement any space in your home is easy. Plus, with multiple ways to configure them, tailoring these blinds to your style and your needs is simple.
PVC Shutters
Any type of shutter, whether it's a premium wood plantation shutter, a poly plantation shutter or a vinyl shutter, will provide energy efficiency in your home, but if you're looking for durability as well, PVC shutters are a top pick. Not only do PVC shutters expertly filter light into the room, helping to maintain the correct temperature, they're also more resistant to the elements, like excessive heat and moisture, more so than wood shutters. This makes them perfect for bathrooms, kitchens, garages and other areas of the home that are more susceptible to moisture.
Roller Shades
Roller shades are very popular with homeowners, who want to maintain a modern look in their home, yet need their window treatments to be incredibly functional as well. These shades exhibit exceptional light-filtering abilities, which helps to protect your furniture and valuables from fading in the sun, as well as maintaining a comfortable temperature in the home. With hundreds of fabric choices and a variety of sheerness options, you'll be able to customize these shades to work perfectly with your home.
Other Top Picks
A few of our other favorites for energy efficiency include:
Shade/drapery combinations
Solar shades
Woven wood shades
Plantation shutters
When it comes to maintaining energy efficiency, these window treatments will help you establish a balance of style and comfort in your home. Covering your windows with some of these top options will allow you to save money on your energy bills with a home that's running optimally. Whether you're looking for a timeless custom plantation shutter or a stylish shade, rest assured there's an option available to maximize privacy, control the amount of light that enters the room and ensure that your home is operating as efficiently as possible.