Plantation shutters are great additions to your home. Not only are they extremely functional, allowing light to enter when desired and providing privacy for your family, their crisp, clean, appearance adds a beautiful element to the space. But where did plantation shutters come from? Whose bright idea was it to handcraft pieces of wood into the popular items that you see garnishing windows today?
Plantation Shutter Origin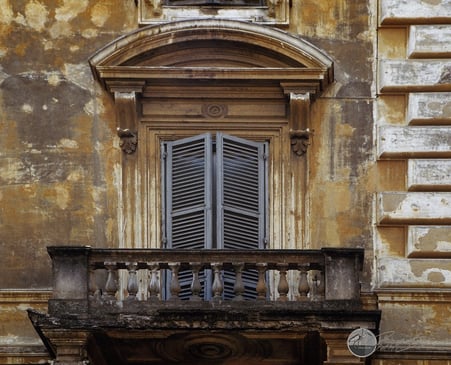 It's believed that plantation shutters originated in ancient Greece, due to the strong daytime breezes brought on by the coast. These breezes oftentimes brought on nasty tropical storms, and being that windows back in ancient Greece were just there for ventilation, shutters were constructed to protect homes from a storm's destruction.
Early Plantation Shutters
Early shutters were not constructed of wood, like many are today. Instead, marble was the main component used to make these window coverings. These natural stone shutters had fixed louvers and quickly gained popularity throughout the Mediterranean. Wood later replaced marble, allowing movement in the louvers. Having moveable louvers allowed for more ventilation and increased air flow.
What's In A Name?
As the years went by, the popularity of plantation shutters increased and eventually made their way to America as the South was colonized by Spain. These beautiful window coverings appeared on many grand, lavish homes on the iconic cotton plantations, thus giving the shutters their name. Providing cross ventilation during the sweltering heat of the summers and protecting the home from the elements, plantation shutters continued to be a staple in the South.
How Are Plantation Shutters Useful?
Plantation shutters still have the same uses today as they did many years ago. They still provide ventilation and light filtration in your home and they still help to protect against the elements. Here in Southwest Florida, we know all too well that the sun can wreak havoc on furniture, artwork and other valuable pieces in your home. By being able to close the louvers, you can protect your home from the sun's harmful rays.
Nowadays, many people choose plantation shutters for their crisp, clean look. Having plantation shutters in your home not only makes it look great, it also increases the value as well. Plantation shutters are the only window treatments that can be financed into the value of your home.
Plantation Shutter Versatility
You don't need to own a grand plantation to put shutters in your home. The great thing about plantation shutters is that they fit into modern and traditional decor. You can paint or stain them, pick your louver size, choose your tilt rod option, add midrails, and customize them however you'd like them. Any home can look great with plantation shutters.
To Sum It Up…
Plantation shutters have quite a lengthy history. Going from just protecting the home from the elements, to adorning lavish plantations in the South, to adding that classy look to your home, plantation shutters prove their worth. Not only are they beautiful, they're also versatile, and popping up in houses all over the world.