At Naples Shutter, one of our products that is surging in popularity is Bahama shutters. Bahama shutters are a popular and practical architectural element that has been around for centuries. But despite their widespread use, many people don't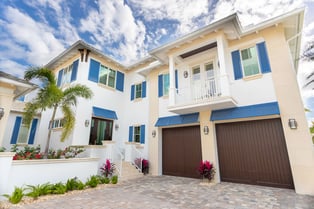 know about the rich history of Bahama shutters. Learn the story behind these popular shutters, from their small origins to their current widespread popularity.
Early Origins of Bahama Shutters
The history of Bahama shutters, also known as Bermuda shutters, can be traced back to colonial times in the Caribbean.
During this time, settlers in the Bahamas, Bermuda, and other nearby islands needed to protect their homes from the intense sun and hurricanes that are common in the region. So, they created rudimentary shutters for the exterior of buildings from lightweight materials such as bamboo and palm fronds.
Over time, the design and materials used in Bahama shutters evolved to better suit people's changing needs. For example, wooden shutters were introduced as a more durable and long-lasting alternative to bamboo and palm fronds. The design of the shutters also became more sophisticated.
Features that characterize Bahama shutters today, such as louvers and adjustable blades, were added to allow for more control over light and airflow.
Adoption in the United States
The use of Bahama shutters gradually spread, eventually finding its way to the United States. Bahama shutters are commonly used in coastal regions, especially in the south, since these areas tend to have a similar climate as the Bahamas, consisting of long, hot summers and frequent storms.
Modern Bahama shutters come in many different colors and materials, including: ● Wood ● Plastic ● Fiberglass ● PVC ● Composite ● Aluminum The best material for your home will depend on your location, budget, and personal preference.
Benefits of Bahama Shutters
Since their initial adoption in the United States, Bahama shutters have spread to many different regions across the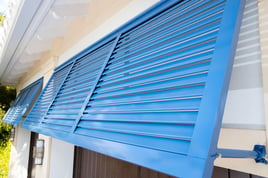 country due to the practical and aesthetic benefits they provide.
Protection from Storms
One of the biggest benefits of Bahama shutters is the protection they provide during a storm. Bahama shutters are incredibly durable and are made to withstand the strong winds and rain that come with hurricanes. As such, when a hurricane is approaching, you don't have to worry about boarding up your windows; simply close the shutters.
Improved Privacy and Light Control
It's easy to adjust Bahama shutters to meet your privacy and lighting needs. Open them wide to flood the indoors with warm, natural light, or close them slightly more to provide shade, control energy costs, and add privacy.
Enhanced Curb Appeal
Bahama shutters add a certain charm that can help enhance your home's curb appeal. Their unique appearance creates a warm, tropical, island-like feel that many homebuyers seek. Best of all, they look great on all styles of homes.
Bahama Shutters Near You
If you're ready to upgrade your home's protection and style, Bahama shutters are an easy way to do so. At Naples Shutter, we will not only help you find the perfect color and style of shutters for your home but also professionally install them for ultimate peace of mind. Give us a call today at (239) 566-8161 or visit our spacious showroom to see all that we have to offer.