It's a new year and if you've made a resolution to become more active, you may be outfitting a space in your home into a gym area. After all, exercising at home means not having to fight the traffic to get to the gym and avoiding crowds of people all trying to use the same machines. In your own personal gym, you're able to have the privacy you need, in addition to working out whenever you want. Speaking of privacy, how can you ensure that your home gym area maintains its private appeal, so that your neighbors aren't watching you struggle on the treadmill? That's where window treatments come in to save the day. Letting light in when you want in, while offering privacy when you need it, window treatments are what every home gym requires, but not every product works well in a gym setting. That's why we've compiled some of our favorites for this area of the home.
Here are the best window treatments for home gyms…
Roller Shades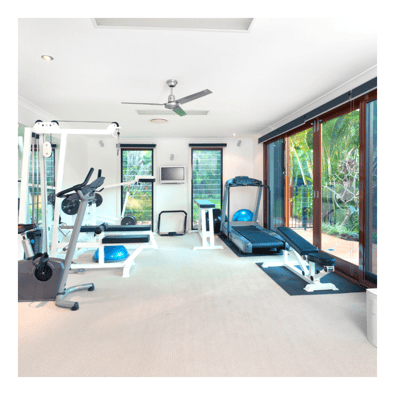 Shades work really well in this area of the home, due to the fact that many are low maintenance and easy to clean, as well as a breeze to operate, especially when you opt for motorization. Being able to close the shades with the click of a button while you're participating in an online spin class is extremely helpful, and it allows you to stay focused on the task at hand. Roller shades, in particular, are ideal for this area of the home, as they're able to offer ample privacy, but they also allow enough light in, so that you're able to enjoy a bright, cheery space while you exercise.
Poly Shutters
Plantation shutters have a modern look about them that can't be denied, and if you have plantation shutters throughout your home, it just makes sense to incorporate them into your home gym. If you're wanting to carry the look of plantation shutters throughout your home, we recommend poly plantation shutters for the gym area. After all, anything can happen in the gym. You may get too excited when hitting a new record with your workout, only to spill your water bottle everywhere, including your shutters. With poly shutters, however, this won't matter, as these shutters are made from a durable composite material that is perfect for areas prone to moisture.
Cellular Shades
Depending on where your home gym is located in the home, you may find yourself quickly heating up, especially if there's a lot of sunlight streaming through the windows. That's why cellular shades are recommended to maintain the temperature of the room. Cellular shades have a honeycomb design that's perfect for keeping cool air in and hot air out. Other benefits include:
Lightweight & easy to operate
Top-down, bottom-up configurations for ample privacy & light filtering capabilities
Sheerness options
Hundreds of fabric choices
If you want to ensure that your gym remains nice and cool while you get a workout in, cellular shades are the ideal shades for the job.
Home Gym Window Treatments
Whether you've vowed to get back in shape this year or you're looking to make exercising more convenient, a home gym is a wonderful addition to your Southwest Florida home. Remember, find the window treatments that not only work with the space, but also offer you what you're looking for when it comes to privacy, UV protection and more. Keeping these products in mind will ensure that your home gym will be the ideal place for you to achieve your fitness goals.