No matter what type of business you own, it's important to decorate it accordingly. For example, office buildings may require more privacy, whereas restaurants may desire more welcoming décor. That's why it's imperative to choose window treatments that not only function properly for your unique needs, but also work well in the space. The vibe that your establishment gives off can really impact your customers and your employees, and when it comes to window treatments, there's an option for every business. Here at Naples Shutter, we've had the opportunity to work with a number of Southwest Florida businesses, and it's obvious that no two businesses are alike. So, come with us on a journey in the corporate world. Here are the best window treatments for businesses.
Window Treatments for Offices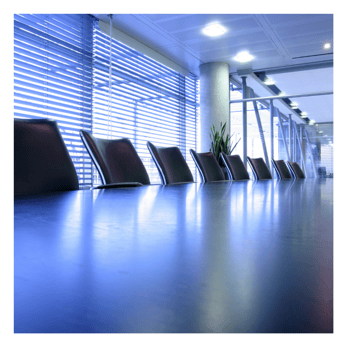 Like we mentioned before, office buildings require more privacy than other types of businesses. You'll also want your window treatments to be durable, especially if you have many employees in the building who may come in contact with them regularly. Office buildings don't often have a dedicated theme or style, which can make it difficult to choose window treatments for this space, but sticking to the following is a tried-and-true practice among many businesses:
Faux wood blinds
Honeycomb shades
Not only are these options easy to care for and effortless to clean, they're more in-line with the look and feel of a traditional office space.
Window Treatments for Restaurants
When you're decorating your restaurant, you're able to have a bit more creativity when it comes to your window treatments. After all, you're seeking to exhibit a warm and welcoming environment for your guests, so having a common theme throughout your establishment is popular with many restaurant owners. Some of the top window treatments we frequently see in restaurants include:
Roller shades
Solar shades
PVC or poly shutters
Depending on the atmosphere of your restaurant, you'll be able to create a more upscale ambiance with plantation shutters or a more casual ambiance with solar shades. PVC and poly shutters are also practical picks, especially if you're worried about damage or warping of traditional wood shutters.
Window Treatments for Retail Stores
If you're a store owner, you will also have a multitude of options when it comes to your window treatments. Depending on the direction you'd like to go with your storefront, you'll be able to choose from more practical options or opt for window treatment products that will add a bit of pizzazz to the space. Popular window treatments for retail shops include:
Linen draperies
Plantation shutters
Roller shades
If your store is geared more toward home goods, accenting the space with plantation shutters or woven woods may emit the 'homey' vibe you're going for, whereas clothing shops may benefit from stylish linen draperies or sheers. The choice is yours, but knowing that there are many options out there to perfectly complement your space makes designing your business establishment even easier.
Window Treatments Designed for Business
Your business is unique, which means that the design you choose inside should reflect upon your individuality. From simple window treatments, like mini blinds for offices, to elaborate sheers for high-end boutiques, there's a product for every type of business. Outfitting your business' windows with the right products will transform your space, adding more functionality and beauty to it to enhance it in every way.