When it comes to blinds and shades, you have many options in all different shapes and sizes. From elegantly refined luxury sheers to textured woven woods, there's a shade for virtually every room of the home. Among some of the most popular options out there are roller shades, which can complement many spaces of the home perfectly. This is why they're so popular with many Southwest Florida homeowners. Not only are they available in a multitude of colors and styles, they're also ultra-affordable, and not to mention beautiful. When it comes to roller shades, some rooms in the home can benefit from these particular shades more so than others. Here are the best rooms for roller shades.
Patios & Outdoor Living Areas
Roller shades are simplistic, yet functional, making them perfect for outdoor living spaces. They don't take away from the look of the space, which is what many homeowners desire. They also protect outdoor furniture from the harsh UV rays that tend to penetrate this area of the home, reducing fading and damage from the sun. They're durable, versatile and perfect for patios and other outdoor spaces to add protection and privacy to the home.
Living Spaces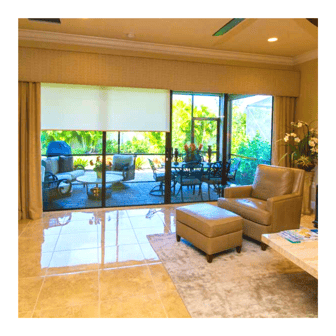 Many Southwest Florida homes incorporate large windows into the living areas to enhance the brightness of the space. With all of these windows, however, brings more light (and heat) into your home. This can result in higher energy bills, as your HVAC system works harder to cool the space. When you add roller shades into the mix, you're able to reduce solar heat gain and keep the space nicely cooled to your liking.
Bedrooms
Roller shades provide outstanding privacy in any room in the home, and perhaps the spaces that need this the most are your bedrooms. The advantage of choosing roller shades for the bedroom is the ability to choose blackout options to ensure quality rest, as well as maximum privacy in the space. You won't get much better than this when you're looking to get a good night's sleep.
Tips for Installing Roller Shades
In order to make roller shades look their best in the space, there are some best practices for installation. These include:
Opting for an inside mount
Adding a valance
Considering the best opacity for the space
Choosing a color palette that complements the room
When you install the shades perfectly, the entire ambiance of the room will be elevated, showcasing more modern vibes. This is where working with an experienced team will allow you to create the look you desire in any room in the home.
Roller Shades for the Modern Home
Roller shades are incredible additions to your windows, especially for homeowners seeking out a modern look in their home. From patios to bedrooms, you'll find that roller shades can make a statement in these spaces. Remember, roller shades are exceptional at blocking UV rays, so opting to place these in sunny spaces is always a good practice. They also add a fine level of privacy, which is why many homeowners opt for these shades in their bedrooms. No matter where you wish to place these shades, the options you have are seemingly limitless, so be sure to choose the best fit for your unique space.