When you're on the hunt for the best window treatments for your home, you may be pulled in several different directions. Two of the main window treatments that are popular with most Southwest Florida homeowners are plantation shutters and blinds. So, which one is right for your home? Whether you want the crisp appeal of custom plantation shutters or the perfect shade that speaks to you, there's a window treatment product out there for everyone. If you're trying to decide between the two, let us help! Should you choose plantation shutters or blinds for your windows?

Here's what you need to know about these top two window treatment contenders.
Plantation Shutters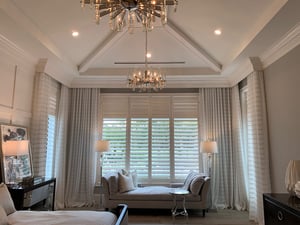 The clean, modern, yet traditional appeal of plantation shutters makes them a top choice for many homeowners. After all, these window treatments are custom-built with handcrafted perfection and can be customized to meet your unique needs. Everything from color and stain to size and shape can be decided to complement your space perfectly. Other customizable options for plantation shutters include:
Louver size
Midrail location
Tilt rod options
Materials
Mounting styles
Choose from a wide variety of hardwoods, paints and stains to create a look like no other. And with easy maintenance and top-notch construction, you won't have to worry about these window treatments over time. They can last for decades with proper care and maintenance. These window treatments can also increase the resale value of your home, making them highly desirable among many homeowners. When you choose plantation shutters for your home, you can expect to get more.
Blinds and Shades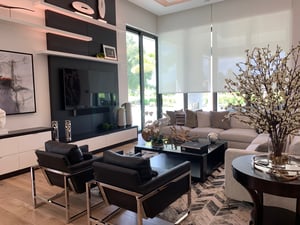 Plantation shutters aren't for everyone and they don't always work in every space of your home, particularly areas prone to moisture. With the extensive variety of blinds and shades available today, you're able to create the look and feel you want for your windows with ease. Types of blinds and shades that are most popular in today's homes include:
Luxury sheers
Woven woods
Roller shades
Wood blinds
Cellular shades
Many of these shades are available in a wide array of colors and textures, and with various operation styles, you're able to open and close your shades the way that works for you. Pair your shade with a motorization option for effortless operation with a touch of a button or opt for cordless shades to help prevent injuries if you have small children or pets. The options are seemingly endless when you're customizing the shade that works for your home.
The Right Choice for Your Windows
When it comes to your home, your window treatments matter! Don't choose a product that isn't practical for your space or doesn't complement it perfectly. When you're trying to decide between plantation shutters and blinds, the choice lies in what you want to accomplish in the space. If you're looking to add a bit more color and depth into the space, you may opt for woven wood shades, or if you want a clean, crisp, subtle look, plantation shutters might be your perfect choice. Find what works, what looks amazing and what fits into your budget. Then, sit back and enjoy the look you've created in your home.