When it comes to your Southwest Florida home, you may be looking for ways to boost curb appeal and increase the value of your property. Although you've done your fair share of upgrades inside the house, what about the exterior of the home? If you're looking for ways to amp up the look of your property, you may want to consider exterior shutters. A popular choice for many Southwest Florida homeowners are Bahama shutters, due to their unique look, beachy feel and customization options. So, will Bahama shutters work for your home?
Here are the pros and cons of Bahama shutters.
PRO: Energy Savings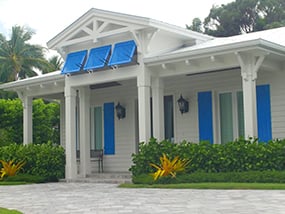 Bahama shutters are exterior shutters that prop open with a telescoping arm. Because you can prop them all the way open, halfway open or fully closed, you're able to control the amount of light that comes into the house. This can save you money on your energy bills as these shutters help to keep your home cooler in the summer and warmer in the winter. Plus, they also help to protect your furniture and other priceless belongings from fading in the sun.
CON: Light Restrictions
Depending on your preference, some believe that Bahama shutters limit the amount of light that is able to come into the home. Although many homeowners see this as a good thing (see the reasons listed above), this doesn't always work for other homeowners.
PRO: Home Security
Bahama shutters offer an upgraded level of home security as well. By being able to close these shutters in their entirety, you increase the protection of your home. Burglars and trespassers see Bahama shutters as just another obstacle, typically avoiding houses with these shutters altogether.
CON: Permanent Installation
Although we (and many other Bahama shutter customers) believe this is a good thing, some view the fact that these shutters are permanently installed as a limitation. Bahama shutters are permanently fixed onto your windows, which means that you won't be able to remove them at your leisure.
PRO: Hurricane-Rated Options
Bahama shutters are also available in hurricane-rated options, meaning that you can protect your home at storm time with your Bahama shutters. Featuring flat backing that is perforated to let light in, as well as heavy-duty lock-down systems and upgraded hardware, hurricane-rated Bahama shutters are Florida Building Code and Miami-Dade Building Code approved.
PRO: Island Appeal Wherever You Live
We like to end on a positive note here at Naples Shutter. With the ability to powder coat your Bahama shutters in hundreds of different color options, you're able to transform the look of your property. Powder coating not only delivers a vibrant hue, it also ensures that your shutters maintain their color for years to come. Bahama shutters are also used more often to hide big arches seen in many Tuscan designs, replacing them with a more modern, contemporary look.
If you're looking for a way to make your home stand out, Bahama shutters are for you! Increase your home's style, while taking advantage of various benefits in the process. With Bahama shutters, the possibilities are endless!