Does your home need a shade that's functional yet blends effortlessly with your décor? Trying to find the perfect shade that matches your style and your budget isn't always easy. It gets pretty hot during the summers here in Southwest Florida, so privacy and energy efficiency is a plus when it comes to picking your perfect shade. Here at Naples Shutter, we can help guide you through your decision to make sure that you select the shade that completes the look and feel of your home. Our product spotlight this month focuses on a unique and popular shade from Hunter Douglas, The Woven Wooden Shade.
What is the Woven Wooden Shade?
This particular shade is created from natural materials such as reeds, grasses, bamboo and woods. The diversity of color and fabric offered with these shades make it stand out from any other window treatment. With stunning light-filtering characteristics, the textured fabric creates softer, more refined weaves and natural fibers to the shade thereby adding an organic feel to your home by permeating sunlight naturally.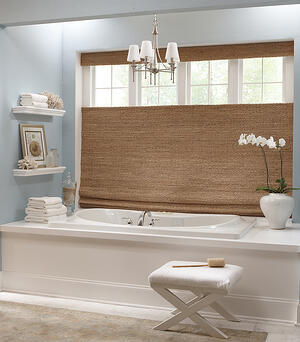 The Benefits of the Woven Wooden Shade
The Woven Wooden Shade offers several benefits:
An organic, natural look.
Versatile function.
State-of-the-art motorization system.
Blackout option.
Privacy and light control.
Having practical shades that can benefit you is important especially if you live in an area where a lot of sun comes through. It's important to keep your energy bill as low as possible and this shade can help you do just that. Customization is a critical aspect with the Woven Wooden Shade. Let's talk about the array of options that this shade offers.
Woven Wooden Shade Options
Clean cut styles such as the Classic, Hobbled, Vertical, Roman and more are available with this shade. Customizing your rooms the way that you want should be a breeze, with over 150 patterns to choose from. You have the option to pick a shade of color or fabric that you see would fit the décor of your room. Since the Woven Wooden Shade is already earthy toned and natural, the look of this shade will feel effortless. The shade styles can also be installed with or without an attached liner. Letting you have total control of light and privacy, the liners are available for both light-filtering and room-darkening opacities.
State-of-the-Art Motorization
One of the benefits of a motorized window treatment is being able to adjust your shades from anywhere in the house, at the touch of a button. Through Hunter Douglas' PowerView® Motorization, operation of your window treatments is simple and can be done through your smartphone, tablet or remote. If you're on the run or away from the house, you can schedule your shades to open and close at certain points of the day. Need your shades to open at sunrise? It's a piece of cake with PowerView® Motorization.
Woven Wooden Shades & Your Home
Each home and homeowner is unique in their own way. We believe your shade should be too. It's essential to explore your options when it comes to deciding on a window treatment for your home. We love the customization options, benefits and ease of the Woven Wooden Shades, and that's why we recommend them to our clients. Let's recap on the Woven Wooden Shade:
These shades are energy efficient.
They provide you the light and privacy control that you need.
You have multiple styles, fabrics, and colors to choose from.
Motorization is a no-brainer with this shade.
If you need help choosing the perfect window treatment for you home, our experts are ready to help! Call (239) 566-8161 or visit www.napleshutter.com to learn more.