The look of plantation shutters is not only beautiful, it's a classic, timeless look that works in virtually any Southwest Florida home. Because of this, homeowners seek to outfit their entire home with plantation shutters in hopes of bringing that beauty to all aspects of their home. Although this seems like a good idea, traditional wood plantation shutters won't work everywhere in the home. Areas that get wet are trouble for wood shutters, which means that another option with a similar look needs to be available. Well, the good news is that there is an option for these moisture-prone areas of the home. Our product spotlight this month focuses on poly shutters. Let's discuss what they are and why they may be the perfect solution for your space.

About Poly Plantation Shutters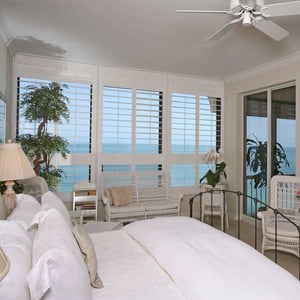 Poly shutters have the same look and functionality of traditional wood plantation shutters, but are constructed of a smart synthetic material that is resistant to moisture. Poly shutters are sturdy and long-lasting, and are perfect for areas of the home, such as bathrooms, garages, kitchens and other spaces that have a tendency to get a bit damp. Poly shutters are easy to maintain and can be customized just like the other plantation shutters in your home, so that you can carry that look throughout all of the rooms in your home. When it comes to design, you can't overlook your window treatments. After all, your windows are a focal point in any room, so be sure to find a look that works in the space, as well as a product that can withstand whatever that space throws at it.
Benefits of Poly Shutters
Poly shutters are available in a variety of different configurations and come with a multitude of benefits. Benefits of poly shutters include:
Resistant to chipping, warping and discoloring
Specialty openings available
Your choice of white or off-white
Louver selection options
Poly shutters can be configured to fit even the trickiest openings in the home, like sliders, and are also offered with a midrail, so that you can operate the top and bottom louvers independently. Since poly shutters are durable, you won't have to worry about damaging them in the shower or garage. They can get wet and not have any damage. Don't risk your plantation shutters warping, invest in poly shutters for these areas of the home, so you don't have to worry.
Choosing the Right Window Treatments for Your Home
When you're designing the interior of your home, don't wait until the last minute to figure out your window treatment design. Finding the product and style that works for you can help you complement the space perfectly. Yes, plantation shutters can really make a room, but they're not always right for some areas of the home. With poly shutters, you can carry that timeless look throughout your home, so that you can maintain your classic Southwest Florida theme and enjoy your window treatments for years to come. Why worry about damaging something that you should be able to depend on and should last for years? Poly shutters take the worry out of these moisture-prone areas of the home, so that you can have the beauty of plantation shutters with the durability of poly construction.