When you're shopping around for window treatments, you're looking for a product that has it all…style and functionality, all within your budget. It may be a hefty expectation as oftentimes, homeowners find the perfect window treatments, only to discover that they're well out of budget and have to settle on a less desirable product. Let's face the facts though…your window treatments are going to be with you for a while (we hope), so it's important to choose something that you love. Window treatments are an investment that not only make the space look stylish, but also increase the value of your home.
We've got quite a few favorites when it comes to custom window treatments, and among those are the luxurious Luminette privacy sheers. Here's why we love these:
What are Luminette Privacy Sheers?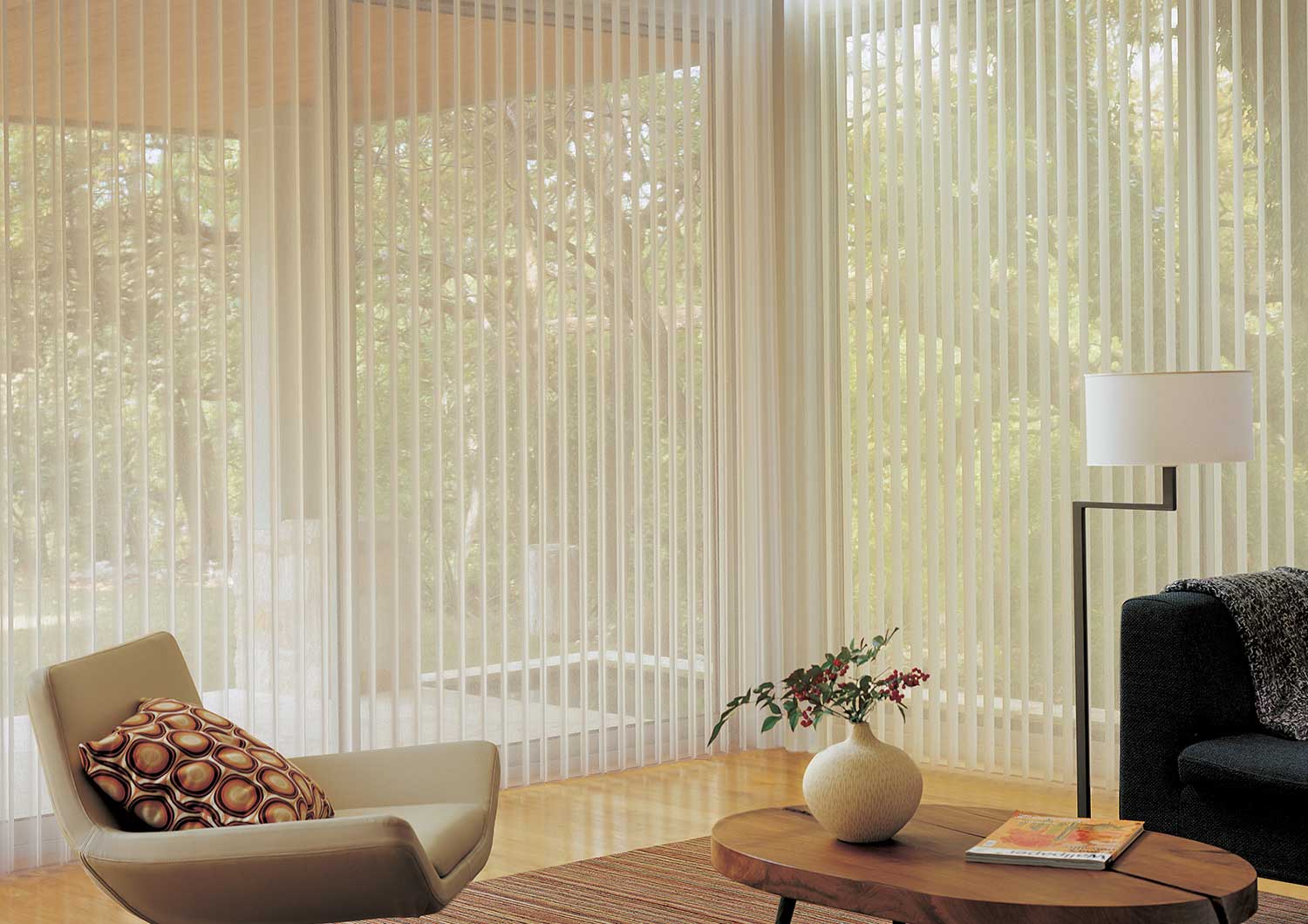 Luminette privacy sheers by Hunter Douglas are engineered to do more. These innovative draperies are made of a sheer fabric with vertically rotating vanes attached to the back of the sheer, diffusing sunlight and providing privacy, while complementing the space. Choose to have more light in the room by rotating the vanes open, or protect your furniture and valuables from harsh UV light by rotating them closed. Either way, you have a product that's not only beautiful, but extremely functional.
Benefits of Luminette Privacy Sheers
We've already touched on the fact that Luminette privacy sheers filter light entering the room, but did you know that instead of eliminating light from the room like most window treatments, Luminette privacy sheers diffuse the light? This means that glaring sunlight is diffused, but soft light is still able to bask the room in a warm, rich glow to help you get the most out of daylight, without having to turn on artificial lighting in the home, thus reducing energy bills.
Another benefit of these luxury sheers is the ability to customize them how you'd like. From top to bottom, Luminette privacy sheers can become what you're looking for in a window treatment.
Customizing Your Luminette Privacy Sheers
It's all in the little details with these fine luxury window treatments. A sleek, modern headrail accompanies the Luminette privacy sheers, featuring Hunter Douglas' own SofTrak™ hardware system, which is hidden in the sheer's headrail to provide a clean overall look. Luminette privacy sheers can also be controlled by PowerView® Motorization, which means that you can control your shade through a variety of different devices, including:
Smartphones
Tablets
Remotes
Having this type of technology in your window treatments simply makes life easier. Imagine being able to control your sheers with just a touch of a button, instead of having to get up and pull on difficult cords.
The Right Window Treatment for Your Home
Whether you're looking for a product that brings style to the room or one that is tried and true with its functionality, Luminette privacy sheers are an elegant and smart option. Take a look at your windows and see what the room needs and be sure that you choose a product that meets your vision and your budget.
As always, the window treatment professionals at Naples Shutter are here to help! Call (239) 566-8161 or visit www.naplesshutter.com.