Few shades can give you a luxurious look, while functioning perfectly in the space. When it comes to a stylish touch, look no further than Vignette shades by Hunter Douglas. When you're shopping for a window treatment for your space, you're not only looking for a product that looks good, you're searching for something that works. After all, if your shades don't perform properly, what's the use in even having them? Our product spotlight this month takes us into the world of Vignette shades and how they simply work in the space.

About Vignette Shades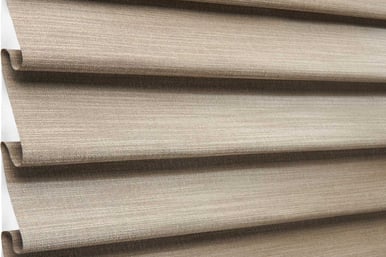 The Vignette by Hunter Douglas is considered to be the perfect Roman shade. These shades incorporate uniform, contoured or flat-fabric folds with no exposed rear cords, making them perfect for areas of the home, such as living rooms, dens and bedrooms. Give the space a luxurious look with your window treatments! Soft folds and beautiful fabrics give this shade a luxury appeal, and many customization options make it simple to design the right look for your windows. Choose from a variety of colors and textures, coupled with fold selection, operation and more to create the perfect Roman shade for you.
Customizing Your Vignette Shades
Choose from sheer, room darkening or light-filtering and design your shade to meet the needs of the space. Wanting to place them in a bedroom? Then, room darkening may be the right choice for this space. Need to let some light into the living area? Then choose the sheer or light-filtering option to best suit your needs. Vignette shades are also available in two different styles, which include rolling and stacking features. The rolling style rolls the shade up into the headrail, while the stacking feature stacks the shade neatly into a low-profile headrail. Choose based on the look and feel that you wish to create in the room.
Other Features of Vignette Shades
Complement the room with your window treatments. With Vignette shades by Hunter Douglas, you're able to get the shade that you design by choosing:
Color & opacity
Fabric style
Operating system
Fold sizes
Specialty shapes
The Vignette shade is the perfect alternative to the traditional Roman shade, making it a popular choice among homeowners who want something more from their shades.
Operating Systems
Vignette shades are offered in various operating systems. Powerview® motorization is one of the most popular methods for operating shades, as it gives you the power to open and close your shades with the press of a button. Program your shades to operate from your smartphone, remote or tablet for easy access. Other operating systems include:
LiteRise®
UltraGlide®
EasyRise®
Top-down/bottom-up
How you operate your shades is important, and catering this option to the needs of your family is essential. Choose to go with a cordless option (LiteRise®) to prevent dangerous situations with children and pets, or be able to have the best of both worlds with a top-down/bottom-up system.
Vignette by Hunter Douglas
As you can see, this superior Roman shade is a step above the rest. With many options to customize this shade and numerous operating features, the Vignette by Hunter Douglas makes a wonderful addition to any window, giving it a timeless and stylish appeal.