Picture this...you're entertaining guests outside at your home. You've got the perfect setup: private backyard oasis, food and good friends. But there's a problem. You can't enjoy it, because it's too hot and there are bugs everywhere. What if there was a product that not only provided shade and comfort, but also kept the bugs away? Well, you're in luck. The product is called Cristalum, and this is why you've got to try it.
What Are Cristalum Shutters?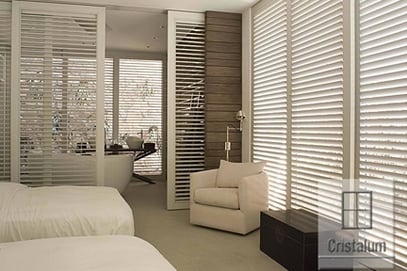 Cristalum shutters are a special type of indoor/outdoor shutter, mostly utilized outdoors for their versatility and resistance to the elements. Originating in Europe some 40 years ago and constructed from extruded aluminum, these louvered shutters offer increased ventilation, protection from the sun's harmful UV rays and keep those pesky critters out of your way, so you can enjoy the outdoors.
Why Do I Need Cristalum Shutters?
Did you know that your valuable items are at risk of fading, due to the sun's UV rays? The sun is a powerful force and your things just can't stand up to it. Cristalum shutters are not only durable, their louvers help to block some of the sun's rays, reducing the chance of your furniture, artwork or other priceless possessions being ruined..
Another great thing about Cristalum shutters is their durability. They won't warp if they get wet, like traditional plantation shutters, which makes them a popular choice for outdoor patios and lanais, and also bathrooms or other areas prone to moisture.
Cristalum shutters also come equipped with an insect screen running along the outside of the shutters to help keep those pests at bay.
Where Can I Install Cristalum Shutters?
A versatile product, Cristalum shutters can be installed virtually anywhere. Their sleek, modern design is appealing enough to add some style to a room inside and strong enough to withstand the elements outside. Most often, Cristalum shutters are installed in the following areas:
Patios & lanais

Decks

Pergolas

Outdoor kitchen areas

Other areas prone to moisture
Design Choices
So is there a catch? How can a product be so versatile AND stylish? The key is having choices. Being able to choose from a variety of colors is another great aspect of this product. Most Cristalum shutters are powder coated and cured, adding an extra layer of protection from the elements. A faux wood grain finish sets Cristalum apart from other outdoor shades and bug screens, offering a modern look, like that of traditional plantation shutters.
Cristalum Shutters: A Recap
To sum it all up, Cristalum shutters are a great choice for indoor or outdoor areas, adding style to your space and aiding in protecting your valuables from sun damage. Remember, you can install Cristalum shutters anywhere in your home, but they are most useful in areas prone to moisture and other weather elements.
So go ahead and enjoy that party without worrying about a being bothered by bugs or feeling uncomfortable in the heat. With Cristalum shutters, you've got options. It's time to take back your backyard.