Take a look around at some Southwest Florida homes. Notice anything? In addition to pristine landscaping, pools and outdoor living areas, you may have noticed colorful shutters donning the outside of many homes. Bahama shutters are not only popular among many Southwest Florida homeowners, they add curb appeal, style and functionality to a home. So, why are so many homeowners opting to include these shutters on their home's exterior? Our product spotlight today is going to delve into the world of Bahama shutters and why they're so popular in our area today.
What are Bahama Shutters?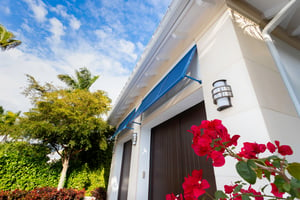 This type of window covering is installed on the home's exterior and is hinged at the top, propped open using a telescoping arm. This durable window treatment is constructed of a sturdy extruded aluminum and can be finished in over 200 powder coat options. Not familiar with powder coating? This process ensures that your Bahama shutters are protected from the elements, maintaining their beauty and functionality for years. Your Bahama shutters can be propped open in a variety of ways, depending on your preference. They can be propped open partly, closed fully or opened all the way, which can really help out with your energy bills as well.
Customizing Your Bahama Shutters
Choose to go bright with a vibrant powder coat color or subdued with a color that blends in more with your home's exterior. Anything goes when it comes to customizing your shutters. Bahama shutters aren't just there for looks either, they offer an added level of security and are also available in hurricane impact-rated options. Have peace of mind knowing that your home is protected during storm time without having to struggle with locating your hurricane shutters and installing them in time. With Bahama shutters, your protection is already installed and waiting to be deployed.
Enhancing Your Home
Many homeowners seek to increase the resale value of their property and there's no better way than by installing custom Bahama shutters on your home's exterior. The clean look and added value that these shutters give to a home is unmatched and many potential home buyers are looking for that wow factor when searching for a new home. Be a trend-setter in your neighborhood by adding that island feel to your home. Chances are, you'll spark some interest...don't be surprised if other homes on your block install Bahama shutters too!
To Sum It Up...
Bahama shutters are a top choice among many homes here in Southwest Florida. So, let's recap...why are Bahama shutters a top choice in our area? Because they:
Increase home value
Boost curb appeal
Add style to a home's exterior
Provide security and protection at storm time
Can be customized to fit your style
Functional, durable and beautiful, Bahama shutters can be the missing piece when it comes to accentuating the stylish features of your home. If you're looking to add that little something extra to your home, consider Bahama shutters. Customize them how you like and add color, architectural appeal and an island appeal to your home.