As we optimistically look forward to a new year just weeks away, you may be excited to complete some much-needed home improvement projects. If you're searching for the perfect window treatments, you may have stumbled across the wide array of options from popular window treatment manufacturer, Hunter Douglas. With so many options to choose from, it can be a challenge to find the right shade for your space, and when it comes to enhancing the style of your home, window treatments are important. Two popular options from Hunter Douglas are Luminette Privacy Sheers and Silhouette Shades. Which is right for your home?
Let's explore these two fine product offerings by Hunter Douglas in our latest product showdown between Luminette Privacy Sheers and Silhouette Shades.
Luminette Privacy Sheers: An Overview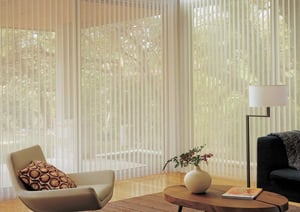 Luminette Privacy Sheers complement large windows perfectly with their light-filtering, rotating vertical vanes. A combination of a sheer and a drapery treatment, Luminette Privacy Sheers feature sheer fabric and 180 degree rotating vanes to provide light where you want it and privacy where you need it. Available in a variety of colors, textures and operations, Luminette Privacy Sheers pair well with many modern home furnishings and designs. So, is the Luminette right for you? Let's take a look at some benefits of this popular shade.
Benefits of Luminette Privacy Sheers
If you're looking for a sleek, stylish window treatment for your home, you can't go wrong with Luminette Privacy Sheers by Hunter Douglas. With concealed hardware, your window treatments maintain a clean, polished look and with room-darkening selections, you're able to have the privacy you need in any area of the home. Perhaps what makes this shade so popular is its overall look, which pairs that of a traditional vertical shade with the upscale appearance of drapery treatments. Plus, with PowerView Automation, you're able to schedule your shades to open and close for maximum convenience all with a swift tap on your smartphone, or through voice activation.
Silhouette Shades: An Overview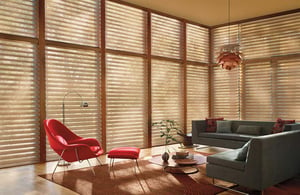 With unique S-shaped vanes nestled between two sheer panels, Silhouette Shades make the perfect backdrop in any room of your home. Perfect for any size window, Silhouette Shades not only diffuse light effortlessly, they add a level of privacy to the space when you need it the most. With a floating appearance, Silhouette Shades add just the right amount of sophistication and function to your space. Discover why Silhouette Shades may just be the right choice for your windows.
Benefits of Silhouette Shades
Silhouette Shades offer unparalleled UV protection, which prevents your furniture, artwork and other valuables from fading in the harsh Southwest Florida sun. Other benefits of Silhouette Shades include:
Sheer materials provide ideal privacy, while still allowing light into the room.

An abundance of design styles to choose from; there seems to be a shade for any home.

Silhouette ClearView Shadings available, featuring specialized front and back sheers to allow for ultimate light diffusion, UV protection and more without compromising your view.
Which Shade is Right for Me?
If you're looking for a vertical shade that offers up extreme luxury and style, Luminette Privacy Sheers may just be your perfect solution. If you're looking for a more traditional window treatment with enhanced design and maximum light filtering qualities, the Silhouette Shade is a top choice. When it comes to your home, finding the right window treatment that matches your style and of course, your budget is imperative. And if you're searching for ways to increase the luxury appeal of your space, both window treatments work perfectly.