Having been in the plantation shutter business for over 36 years, we've learned a thing or two about the industry. We have learned that quality, timeliness and attention to detail sets us apart from the competition, and providing clients with accurate lead times and a superior product is of the utmost importance. Having had a few conversations with various contractors and hearing about their less than acceptable experiences with other shutter manufacturers, it prompted us to really think about our industry. When it comes to plantation shutter manufacturing, quality matters!

Choosing a Plantation Shutter Manufacturer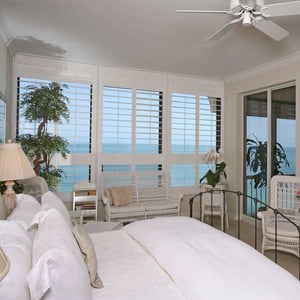 In speaking with some general contractors recently, we couldn't help but wonder about why they chose a certain company over us, especially after hearing about their disappointment in lead times, quality and communication. They said that many times, it comes down to price, and we had a quick rebuttal to that...you get what you pay for! Often times; however, the price difference isn't that big or it's virtually the same after a couple of orders. In choosing a plantation shutter manufacturer, we have to advise that you do your research and ask yourself why one product may be less expensive than another. You may find your answer lies in the quality.
Plantation Shutter Quality
When you're shopping around for a plantation shutter manufacturer, ask questions! It's important to find a manufacturer who takes pride in their product and provides open communication with you every step of the way. Also, see how the product is made. A top-quality plantation shutter manufacturer provides the following:
Premium hardwoods
3-dowel construction
Specialty shapes offered, including sunbursts, arch tops, ovals, etc...
Exotic wood selection
Unlimited paint/stain choices
Upgraded paint & finish process
It's also a good idea to find a plantation shutter company who manufactures their products in their own factory, as opposed to outsourcing this process. Even better, find a company that controls the painting and finishing process as well. It's a bonus if that company uses environmentally-friendly paint. (Hint...Naples Shutter does all of this!)
Lead Times & Open Communication
Another important aspect of the experience is getting an accurate lead time from the plantation shutter company that you choose. Now, it's understandable that sometimes delays occur; however, open communication with the client is essential. If a paint color is on back-order or a room in the home has been delayed for measure, everyone should know about it and be on the same page during the process. Many builders expressed their disappointment that they were promised a certain timeframe and were well past that. It's important to stick to an accurate lead time and be open with your client.
Plantation Shutter Manufacturing
When it comes to manufacturing the very best plantation shutters that we possibly can, we turn to our years of experience, quality assurance and expert craftsmanship and installation. Without our dedicated team of professionals, who are always learning about the new developments in the industry, we wouldn't be able to offer such a superior product to our clients. So, the next time you're thinking of cutting corners on your plantation shutters, keep these key things in mind. You'll be glad you did your research and chose a quality product.